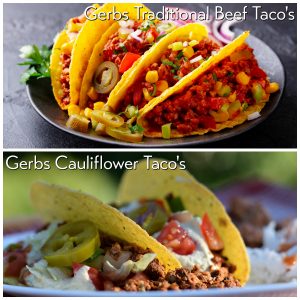 The Options are Limitless
Taco's! There are not many American meals that can be both quick to pull together on a limited schedule but also complex at the same time with so many layered flavor profiles! Think about it, taco's can be made fast, quick and easy or you can take your time, slowly build the flavor profiles together, slow cook the meat, put thought into the toppings to provide options, so that each and every taco can be completely different! We say this without a doubt, not many average family meals provide this versatility.
We offer you two recipe options, that you can easily follow … or come up with one of your own versions!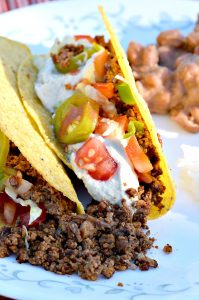 Gerbs Vegan Cauliflower Tacos
INGREDIENTS:
INSTRUCTIONS
Preheat oven to 350 degrees F. Lightly pulse the mushrooms in a food processor until you have a rice like consistency.
Separately pulse raw sunflower seeds, to the same consistency, add mixture to large mixing bowl. Remove the core and leaves of your cauliflower and cut into small pieces. Pulse the cauliflower to the same consistency and add to bowl. Stir in soy sauce and mix thoroughly. Stir in seasonings & spices and mix well, making sure everything is thoroughly incorporated.  Spread mixture onto a parchment lined baking sheet and bake for 30 minutes. Stir lightly and continue baking for an additional 15 minutes.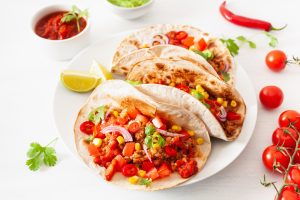 Gerbs Traditional Ground Beef Tacos
INGREDIENTS:
INSTRUCTIONS
Over medium high heat non-stick deep sided pan, add 1 tbs olive oil and sauté ground beef and meatloaf mixture, stirring occasionally until fully cooked. Drain excess moisture/fat, lower heat, add back to pan, add remaining olive oil, salsa and slowly whisk together all powders seasonings & spices. Next mix in ground beef, stir rigorously until meat is all broken down and separated, top with soy and/or sesame oil.
SERVING
Place Cauliflower or Beef Taco in large bowl along with other toppings of choice. Build you tacos with grated cheese on the bottom, meat second and top as desired, finish with a dollop of sour cream. Try to make a different taco every time. The best serving options is investing in a massive rotating 'lazy-susan' serving board serving board so that everyone can get their hands on the topping of choice.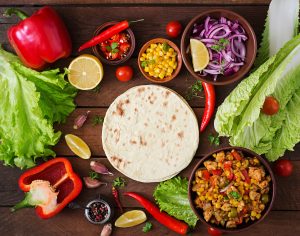 TOPPING OPTIONS
Lettuce
Fresh Lime Wedges
Sour Cream
Grated Cheddar Cheese
Hot Sauce
Chipotle Adobo Hot Sauce
Diced Vine-Ripe Tomatoes
Diced Red Onion
Cubed Avocado
Salsa
Scallions
Diced Bell Pepper
Diced Green Zucchini
Re-fried Beans
Black or Green Olives
Ramen Noodles (uncooked)
Pickled Jalapenos
Diced Fresh Jalapeno
Bacon
Pulled Pork
Black Beans
Fresh Corn
Guacamole
Shredded Red Cabbage
Soy Sauce
Sesame Oil
Roasted Sunflower Seeds
Roasted Chia Seeds
Sun-Dried Tomatoes
Pickled Artichokes