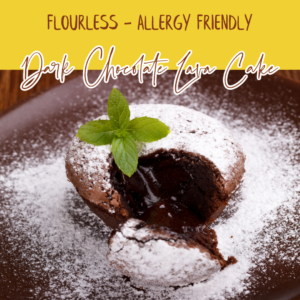 What is not to love about Dark Chocolate Lave Cake that is creamy, delicious and free from the top 14 recognized food allergens. This recipe is off the hook amazing and was inspired by a beautiful person, who's passion for chocolate desserts in unmatched. This recipe is beyond simple to put together, and even better, involve the children in the process, let them get their hands dirty (and lick the bowl). We are talking about a gooey fudge like dark chocolate cake with a creamy center, these dark chocolate lava cakes will make any chocolate lover swoon.
GERBS FLOURLESS DARK CHOCOLATE LAVE CAKE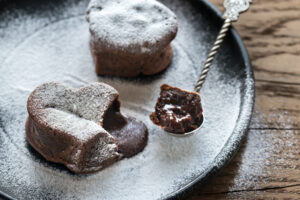 Dark Chocolate Lava Cakes are essentially tiny cakes that have a gooey chocolate center that spills out when you take a bite – aka, like lava spilling from a fisher in a volcano. They can be made in large batches, kept on the counter for a few days (if they make it) or better yet frozen and microwaved for a sophisticated delicious midnight snack.
HOW TO MAKE GERBS DARK CHOCOLATE LAVE CAKES
Grease 4-ounce ramekins and place them on a baking sheet OR dust 9 muffin pans Gerbs Natural Cocoa Powder (to prevent sticking). Silicone baking pans are best when making these lava cakes because they pop out and do not stick.
In a small mixing bowl, make your flax eggs by whisking/combining Gerbs Ground Flax Meal and water. Let stand/sit for 10-15 minutes to thicken.
Add Gerbs dark chocolate chip chunks and sunflower oil to a separate medium sized microwaveable bowl. Microwave for 1 minute and then whisk until chocolate mixture is smooth.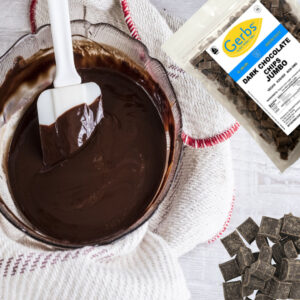 Add the melted chocolate mixture, applesauce, and Gerbs flax eggs to the dry mix and stir until combined.
Fill the ramekins or muffin wells ¾ of the way full.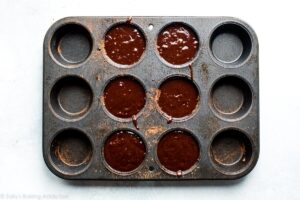 Bake for 14-16 minutes 350 degree oven. The edges will be set but the center will still be soft and gooey. Remove the pan form the oven, set aside on drying rack.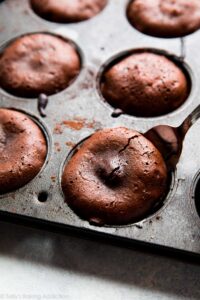 Invert Gerbs dark chocolate lava cakes onto a plate and serve warm with a side of vanilla ice cream, or fresh berries and a sprig of mint.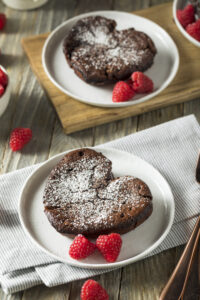 INGREDIENTS
4 flax eggs (¼ cup Gerbs ground flaxseed meal + ¾ cup (6oz.) water, let sit for 10-15 minutes until thickened)
1 cup Gerbs All-Purpose Flour
½ cup granulated sugar
¼ cup Gerbs Natural Cocoa Powder
½ teaspoon gluten-free baking powder
½ teaspoon salt
½ cup Gerbs Dark Chocolate Chip Chunks
¼ cup sunflower oil
½ cup apple sauce
Optional: additional Gerbs Dark Chocolate Mini Chips for an extra chocolatey center.