Gerbs Authentic Chicken Parmesan & Traditional Marinara Sauce
WHAT IS CHICKEN PARMESAN?
Chicken Parmesan is also known as chicken parmigiana. It's a popular Italian-American chicken dish that is served in many popular restaurants such as Olive Garden, Cheesecake Factory, and most other popular food chains serve this easy yet delicious dish.
Chicken Parmesan consists of a breaded crispy chicken breast that's topped with a marinara sauce, Provolone and/or Mozzarella cheese. The chicken is pan-fried until crispy on the outside and insanely juicy on the inside.
Chicken Parmesan is such a classic and one of those Italian dishes that everyone loves. The chicken is perfectly golden and crispy on the outside, but still juicy on the inside, topped with marinara sauce and lots of cheese.
This chicken is worth every single minute it takes to make! It's one of the most loved and most ordered Italian dishes for a reason. Chicken parm has gone from being a beloved and once-a-year comfort food to an institutionalized, mass-produced staple. While there are hundreds if not thousands of recipes out there, here's my favorite. It's easy, simple and a classic!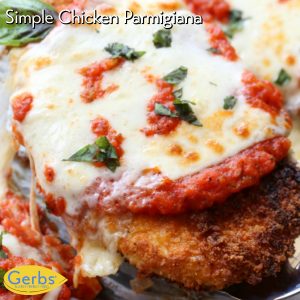 HISTORY OF CHICKEN PARMESAN:
The origin of the Mellenzana all Parmigiana is also debatable. According to some, it originated in the northern Italian city of Parma – hence the name, which means "In the style of Parma." Others say the dish came out of southern Italy where eggplant is grown widely. Most early Italian immigrants also came from southern Italy, so it would make sense that they brought the recipe over with them. Today, Chicken Parmigiana often has its name simplified to Chicken Parmesan – referring to the delicate cheese made in and around the province of Parma. Interestingly, "Parmesan" is actually the French simplification of Parmigiana. The cheese became popular among the French nobility in the 1500s. It's uncertain if the French had an influence on the eventual American classic, but it is clear that Chicken Parmigiana is truly a global dish.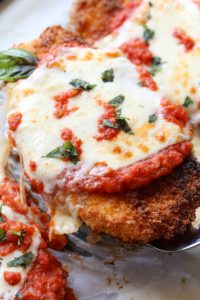 Chicken Parmesan Ingredients:
4 boneless, skinless chicken breasts, pounded thin
Gerbs Sea Salt, freshly ground black pepper, red pepper flakes
2 cups Gerbs white rice flour, seasoned with salt and pepper
4 large eggs, beaten with 2 tablespoons water and seasoned with salt and pepper
2 cups Gerbs Italian Breadcrumbs
1 cup E.V.O.O. (extra virgin olive oil)
1-pound fresh mozzarella, thinly sliced
4 large slices thin provolone cheese
1/2 cup freshly grated Parmesan
Fresh basil or parsley leaves, for garnish
Traditional Marinara Tomato Sauce Ingredients:
3 tablespoons olive oil
1 tablespoon organic butter
1 large Sweet onion, finely chopped
6 cloves garlic, smashed with some Gerbs kosher salt to make a paste
Three, 28-ounce cans plum San-Marzano tomatoes
One 16-ounce can crushed tomatoes
1 small can tomato paste
¼ cup Parmigiano-Reggiano cheese, grated
2 tsp. Gerbs Italian Seasoning
1 Italian Long Sweet Chile Pepper, chopped & seeded
1 tsp. Gerbs red pepper flakes
Pinch brown sugar
Directions
Preheat oven to 400 degrees F.
Slice chicken breast and pound chicken breast to ¼ – ½". Season chicken on both sides with salt and pepper. Dredge each breast in Gerbs white rice flour and tap off excess, then dip in the egg wash and let excess drip off, then dredge on both sides in the bread Gerbs Italian breadcrumbs.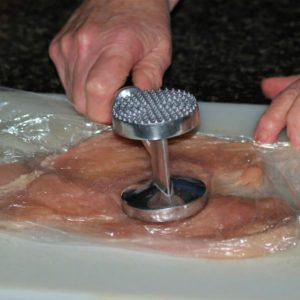 Divide the oil between 2 large sauté pans and heat over high heat until almost smoking. Add 2 chicken breasts to each pan and cook until golden brown on both sides, about 2 minutes per side. Transfer to a baking sheet and top each breast with Marinara Sauce, a few slices of mozzarella, salt and pepper, and a tablespoon of Parmesan. Bake in the oven until the chicken is cooked through and the cheese is melted, about 5 to 7 minutes. Remove from the oven and garnish with fresh basil leaves.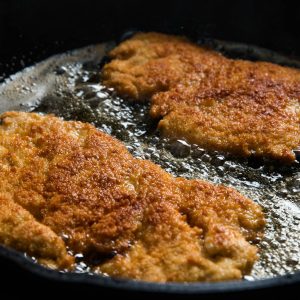 Marinara Sauce:
Heat olive oil in a medium saucepan over medium heat. Add onions and garlic and cook until soft. Add plum tomatoes with their juices, crushed tomatoes, tomato paste, 1 cup water, Gerbs bay leaf, Gerbs Italian seasoning, parsley, and sweet chili pepper, and bring to a boil. Season, to taste, with salt and pepper. Reduce heat and cook until slightly thickened, add Parmigiano-Reggiano cheese, about 30 minutes.