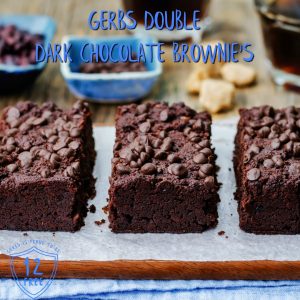 Gerbs Dark Chocolate Brownies
INGREDIENTS
3 tablespoons Gerbs Flax Meal
1 cup (148 grams) Gerbs All-Purpose Flour
1/2 cup (40 grams) Gerbs Cocoa Powder
1 teaspoon baking powder
1/2 teaspoon Gerbs Himalayan Sea Salt
1/2 cup coconut oil at room temperature, plus more for the pan
5 ounces (140g) Gerbs Chocolate Chips chopped (any size will work)
1 1/2 cups (300 grams) organic pure cane sugar
1 tablespoon pure vanilla extract
METHOD
Heat the oven to 350°F and prepare the pan: Line an 8×8 square baking pan with parchment paper, and grease the parchment paper and pan with a little coconut oil. Prepare the flax "egg": Combine the flax with 8 tablespoons of water in a small bowl. Let stand for 7 to 10 minutes to thicken. (This will be used as an egg replacer in this recipe.) Whisk dry ingredients: In a small mixing bowl, whisk together the flour, cocoa powder, baking powder, and salt. Melt the coconut oil and chocolate: In a small saucepan over low heat, warm the coconut oil and chopped chocolate, stirring until the chocolate is completely melted, about 2 minutes. Add the sugar and vanilla: Whisk the sugar and vanilla into the chocolate mixture, stirring vigorously until combined. The mixture will be a little grainy at this point, which is perfectly okay.
Make the batter: Pour the chocolate mixture into a large mixing bowl, scraping everything from the pan. Fold in the flax eggs. Add the dry ingredients and stir well with a wooden spoon or rubber spatula until well combined. The batter will be quite thick and will gather into a ball—it won't be loose and thin like many traditional brownie batters. Scoop the batter into the prepared pan, and use a rubber spatula or the palm of your hand to press it into the pan in an even layer, top with more chips.
Bake the brownies for 30 to 35 minutes, or until the edges are set and no longer jiggly. The tops of the brownies will still feel very soft and may even be bubbling a little; they'll firm up as they cool. Cool: Let the brownies cool completely before slicing, 2 to 3 hours. Because these are so fudgy, they really will slice best if you allow them to fully cool. Slice, serve, and store: Using the parchment paper as a handle, lift the cooled brownies up out of the pan and onto a cutting board. Slice into a 4×4 grid (making 16 small squares). Leftover brownies can be stored in an airtight container at room temperature for up to 5 days.