Gerbs Turmeric Ginger Tea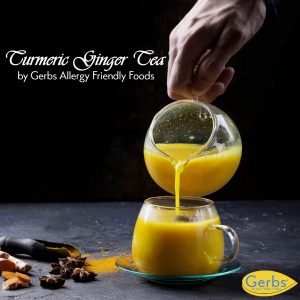 Cold & Flu Season is upon us, coughing and sneezing people seem to always around, there is just no substitute for washing your hands in warm water for at least a 30 seconds. Their Aches and pains and sore throat can take you off your 'A' game very quickly, that's why we strongly believe in this 'go too' natural tea. Ginger & Turmeric have so many health benefits, we should tie red capes around the bottles before shipping them out!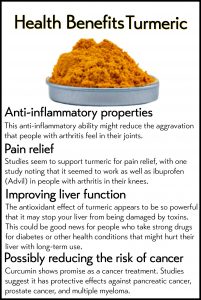 Turmeric is known to have anti-inflammatory properties and this warming, beautifully colored spice makes a perfect companion with our ginger for this warm tea (hint it can be made in advance and served cold over ice). It turns out this is not a new idea; turmeric tea is found in Okinawan and Indian cuisine and a quick internet search will yield copious amounts of alternate recipes.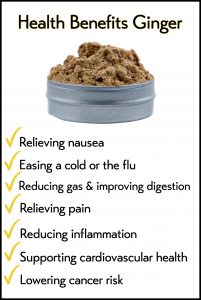 Here's our quick 10 Minute amazing flu busting Turmeric & Ginger warm tea. Here's a quick little recipe which can be made in the time it takes to warm up your car!
INGREDIENTS
1 cup distilled bottled water
1/4 teaspoon Gerbs ground turmeric (sku – SP/100)
1/4 teaspoon Gerbs ground ginger (sku – SP/500)
Splash Lemon Juice (optional)
Honey or Maple Syrup for taste (optional)
INSTRUCTIONS
In a small saucepan, bring water to boil. This step can be done in a microwave oven to save time.  Add ground turmeric and ginger powder, reduce heat, and simmer for 10 minutes. Stir in lemon juice (optional) and strain tea into a cup (optional). Add sweetener to desired taste.