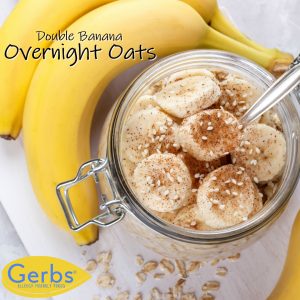 Gerbs Double Banana Overnight Oats
Ingredients
1/2 cup liquid of choice (filtered water, sunflower milk, dairy milk, almond, cashew or coconut milk)
1/2 cup Gerbs Traditional Rolled Oats (sku; OT/098)
1/3 to 1/2 cup Greek style yogurt (optional)
2 tsp. Gerbs Black Chia Ground Meal (sku; ML/091)
Dusting Gerbs Ground Cinnamon (sku; SP/400)
1/2 banana, mashed
1/3 cup Gerbs Sweetened Banana Chips, optional (sku; FF/098)
1 tsp. Gerbs Golden Flax Seeds (sku; FX/100)
Gerbs Topping Suggestions: Dried Blueberries, Cranberries, Goji Berries, Raisins; Seeds, pumpkin, sunflower, hemp), Granola, Pumpkin or Super Five Seed Butter.
FEATURED PRODUCTS
Directions
Add liquid, Gerbs Oats, yogurt, Gerbs chia seed meal chia, and mashed banana to a mason jar or container and give them a good stir. Refrigerate overnight or for at least 5 hours. In the morning, add additional liquid if you'd like. Once you achieve the desired consistency, top with Gerbs banana chips (broken), Gerbs golden flax seeds, and a dusting of Gerbs cinnamon powder. You can leave out the mashed banana and add any toppings you desire for a different overnight oat each morning. My young sons love a large dollop of Gerbs Pumpkin Seed Butter with our unsalted roasted pumpkin seeds on top for a protein-packed start to their day!
Shelf Life Note
The mixture will keep for up to 2 days. If you don't add the banana, up to 4 days. You will get really good at making the base overnight oat recipe, so you'll have no issue creating several batches during the week as needed!