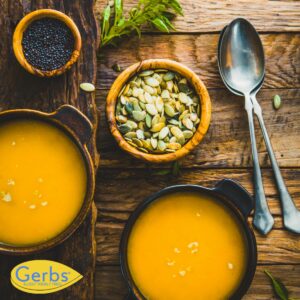 Gerbs Simple Pumpkin Soup
Although we are experiencing an amazing Indian Summer, the cooler days and chilly nights are right around the corner. Nothing is better than putting on a warm pair of pajamas, cozy slippers and sitting by a fire enjoying a bowl of Gerbs hearty homemade pumpkin soup.
The amazing thing about this soup, is the balance of complex yet subtle flavors while only comprised of a few ingredients. This is truly a soup that can be served on a Sunday afternoon alone on the couch or to a dinner party of 10, its that spectacular!
This time of year is when grocery stores and farm stands are packed with United States grown Sugar Pumpkins. These little beauties ripen & sweeten in the summer sun. They simply have it all, delicious pumpkin meat and whole pumpkin seeds, that roast to perfection (or order Gerbs Whole Pumpkin Seeds).
If you are good with a cleaver or chef knife, cutting up the pumpkin, removing the seeds, and preparing it for roasting is the only part of this recipe that takes any time, after that this amazing soup comes together quickly.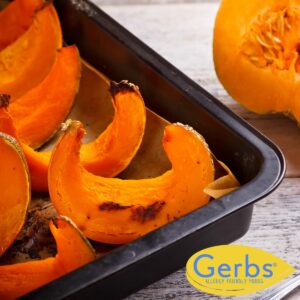 Fresh pumpkin meat Ingredients:
Sliced Sugar Pumpkin Wedges
Fresh Vermont Maple syrup
Soup Ingredients
1 Large sugar pumpkin
1 Tbsp Extra Virgin Olive Oil
2 shallots, finely chopped & diced
4 cloves garlic, knife minced
3 cups organic vegetable stalk
1 cup canned light coconut milk (substitute Oat, Chia, or Sunflower Milk)
2 Tbsp maple syrup
Season to taste with Gerbs Salt, Pepper, Pumpkin Pie Spice
DIRECTIONS
Preheat oven to 375 degrees F and line a baking sheet with parchment paper.
Using a sharp knife, cut off the tops of the sugar pumpkins and then halve & quarter them. Using the side of a metal spoon or measuring cup, scrape out all of the seeds, sweet pumpkin nectar and strings. These are full of natural sugars, which if you do not fully remove will burn in the oven during the roasting process. (save the seeds to roast later or order some Gerbs pumpkin seeds).
In a large bowl thoroughly toss the pumpkin 'honeydew' sized slices with olive oil, maple syrup, vegetable stalk and Gerbs seasonings. Place the pumpkin slices flesh side down, on a sunflower oil greased baking sheet. Bake for 45-50 minutes or until a fork easily pierces the skin. Remove from the oven, let cool for 10 minutes, then peel away skin and set pumpkin aside. At this point, this pumpkin is the ultimate side for Thanksgiving, simply mash with a few forks if you like the chunks or use a 'potato masher' for a creamer consistency, and we recommend adding Gerbs Rosemary Garlic Seasoning Mix.
Find yourself a high quality large non-stick saucepan (with lid), this will be your best friend for years to come. In this large pan, over medium add olive oil, shallot and garlic. Cook until slightly browned and translucent, 4-6 minutes.
Add remaining ingredients, including the pumpkin, and bring to a simmer.
Blend soup with an immersion blender to puree the soup. If you want use a a blender, place a towel over the top of the lid before mixing to avoid any accidents. Pour mixture back into pot.
Continue cooking over medium-low heat for 5-10 minutes and taste and adjust seasonings as needed. Serve as is top with freshly roasted Gerbs Unsalted Pumpkin Seeds.
Recipe serves 3-4 people. Store in the frig for a few days or freeze for a longer shelf life up to a month.