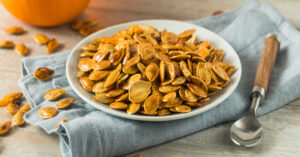 Ingredients
2 cups Gerbs Raw Whole Pumpkin Seeds. Traditional or jumbo work fine, you can also substitute Gerbs Raw Pumpkin Kernels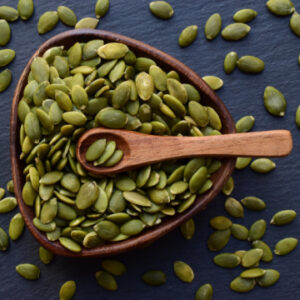 2 tablespoons pressed Pumpkin Seed Oil (substitute sunflower oil)
1/2 cup powdered Sugar
1/3 cup Wild Clover Honey
1/2 tsp. powdered Sea Salt
1/2 tsp. Freshly ground Cinnamon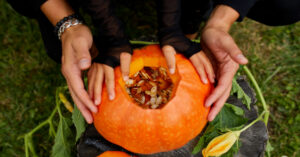 Cleaning Seeds from a Whole Pumpkin
Obviously, this step is only possible in the Fall when Whole Pumpkins are plentiful at local farms and grocery stores. Luckily Gerbs has you covered; we offer raw/dried Whole & Kernel pumpkin seeds 365 a year! But if you have a few hours of time to kill, and perhaps some young helping hands to help scoop and clean, this step can be a wonderful kid friendly activity to make some lasting memories. Mom or Dad, cut a large circular hole in the middle of a medium sized pumpkins, you will find that some pumpkins have more seeds than others.  Have the little ones scoop out the inside pulp and seeds with a spoon into a large stainless bowl, but obviously fingers work the best. Then use running water and a strainer to separate the seeds from all the pumpkin strands and bits; and finally give the pumpkin seeds a nice wash & fully dry to remove the sugary gooey syrup, that will cause the seeds to burn in the oven.
Roasting Pumpkin Seed Instructions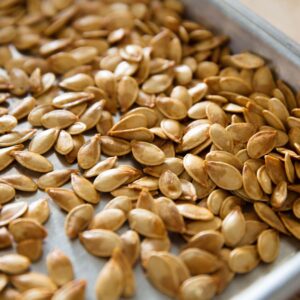 Preheat the oven to 325 degrees.
Add Pumpkin Seeds to a large ungreased baking sheet (non-stick preferable) in a single layer (important step for the seeds to get brown & crispy).
Roast for 25 minutes, move & mix seeds around and roast for another 10 minutes. Helpful Tip: There are over 200 varieties of Whole Pumpkin, you can also roast any seed from winter squash, not just pumpkin.
Remove baking sheet and set onto rack to cool
In a small bowl: add pumpkin oil, powdered sugar and honey & mix. Microwave for 30 seconds, remove and whisk until smooth, add salt and cinnamon microwave for additional 30 seconds.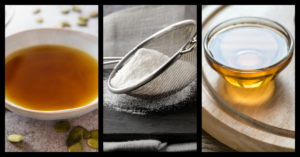 Place warm seeds into large bowl and pour cinnamon sugar mixture over the top and mix thoroughly.
Call in the family, trust us these seeds are amazing when warm!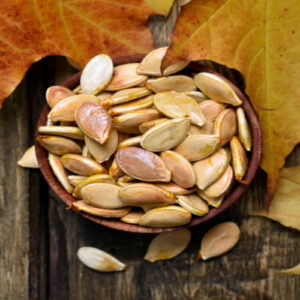 Storing Roasted Pumpkin Seeds
Allow the seeds to cool completely before storing. Roasted pumpkin seeds can be stored in an airtight container at room temperature, in a cool dark setting like a kitchen cabinet for up to two weeks or in the fridge for up to two months.
Many Flavor Options with Roasted Pumpkin Seed
The plain roasted pumpkin seed recipe allows for countless post flavor combinations, we have tried savory batches, spicy jerk flavors, buffalo and ranch kinds or simple garlic parmesan batches, the options are endless!