Food Allergy Safe Recipe perfect to make with any 'kiddo's'

Gingerbread Cookies by Gerbs
These taste amazing, so much fun to make with your children, and as always are safe for anyone with a major food allergy. You can also incorporate our dried crystallized ginger into the recipe (not pictured) with the frosting and/or decorating.
Make sure you set up your kitchen for success because this can be fun, or just deal with the mess and enjoy this new festive holiday tradition. We like to our boys roll out their own gingerbread and cut out their favorite shapes. Some year we will make a Gerbs shield or Logo cutout for you guys. Make sure you put on the oven light because they will want to watch theirs bake.
Make Christmas/Holiday memories today, our favorite memory is the simple joy on their face when they finish their first masterpiece or sneaking the first bite. Hint: secretly bake a few broken pieces so they don't gobble down the ones made for family and friends.
Once you have the frosting ready, we offer so many product ideas for eyes, hair, mouths, buttons, ornaments, presents, or outlines. Like Gerbs crystallized ginger (cut into pieces), dried cranberries, pumpkin kernels, sunflower kernels, chia seeds, goji berries, dried blueberries and hemp kernels. Check out the Gerbs Shop Storefront now for all these category's!
---
PRINTABLE RECIPE CARD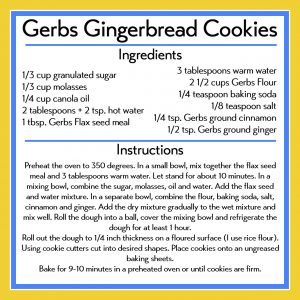 Ingredients
Instructions
Preheat the oven to 350 degrees. In a small bowl, mix together the flax seed meal and 3 tablespoons warm water. Let stand for about 10 minutes. In a mixing bowl, combine the sugar, molasses, oil and water. Add the flax seed meal and water mixture. In a separate bowl, combine the flour, baking soda, salt, cinnamon and ginger. Add the dry mixture gradually to the wet mixture and mix well. Roll the dough into a ball, cover the mixing bowl and refrigerate the dough for at least 1 hour.
Roll out the dough to 1/4 inch thickness on a floured surface (I use rice flour). Using cookie cutters cut into desired shapes. Place cookies onto an ungreased baking sheets.
Bake for 9-10 minutes in a preheated oven or until cookies are firm.