Gerbs Pumpkin Pesto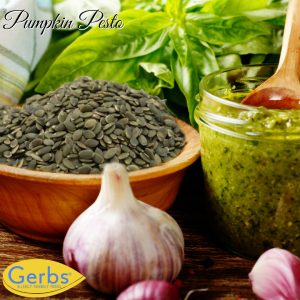 Ingredients
1/2 cup Gerbs raw pumpkin seeds
(you can also substitute our ground pumpkin meal or unsalted roasted seeds)
2 tablespoons grated Parmesan
3 cloves fresh garlic
3/4 cup ​fresh basil leaves
3/4 cup fresh parsley leaves
2 tablespoons fresh lemon juice
1/2 cup Extra Virgin olive oil
Gerbs Himalayan Sea Salt to taste
Gerbs Whole Black Pepper to taste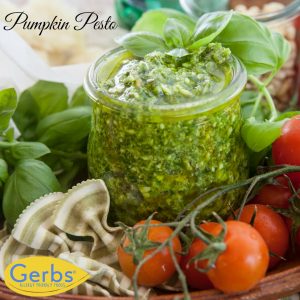 Steps to Make Gerbs Pumpkin Pesto
Combine our pumpkin seeds, Parmesan, ground salt/pepper, and garlic in a food processor. Pulse on and off, for about 20 seconds, until the seeds are almost ground. If you substitute Gerbs Pumpkin Seed Meal, this step will be must faster. You can also use Gerbs Chia Meal; the high fiber content will serve as a natural thickening agent for soups or sauces.
Add basil, parsley, lemon juice, and olive oil, and pulse on and off for about 40 seconds (you may want to ​scrape down the sides with a spatula in between pulses), until all the ingredients are combined. The mixture should be more like a course paste than a liquefied sauce, so be careful not to over-process.
Transfer to a bowl, taste test and adjust the with salt & pepper. Be sure to taste this pesto throughout the process. Once you become comfortable with this recipe, you can make variations with other Gerbs seeds; sunflower, black & white chia, hemp hearts, golden and brown flax.  Serve immediately or refrigerate for up to two days.
Time Frame:
Total: 10 mins
Prep: 10 mins
Cook: 0 mins
Yield: Makes 1 1/2 cups (12 servings)