Gerbs Banana Date & Vanilla Smoothie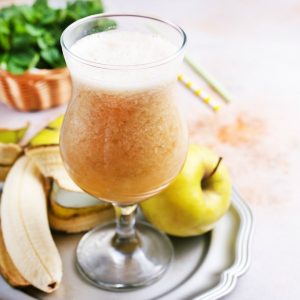 Ingredients:
1 cup unsweetened Flax or Sunflower Milk
1 scoop vanilla protein powder (optional)
1 large frozen banana
4 – 5 ice cubes or another frozen banana
3 – 4 Gerbs Dates (pre-soaked in warm bath)
1 teaspoon vanilla extract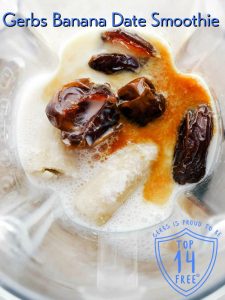 DIRECTIONS:
Soak Dates in very warm water for 30-40 minutes prior to use. Combine ingredients in high power blender and blend until smooth, about two minutes. Add a splash or two of stevia extract if you prefer a sweeter smoothie.
You may have visually small pieces of dates within the shake. That's ok, and even with those I had no trouble using my straw without having to clear the bottom of it maybe once or twice….Those little chunks are so caramelly and delicious!
Serves 1