Wow them!
Wow your Thanksgiving guests with our protein packed, flavorful and 'fall' color themed Ancient Grain turkey stuffing!  Millennials or any health-conscious guests will thank you, put simply this dish will surely stand out among all your sides this season, compared to a traditional turkey stuffing; plus, there are so many options with our grains, rice, dried fruits and seeds to make this stuffing different each and every occasion. This will have all the feelings of a traditional stuffing but with the added nutritional benefits of quinoa, specifically its high fiber content, makes this dish a superfood. One study that looked at 4 varieties of quinoa found a range of 10–16 grams of fiber per every 100 grams. This equals 17–27 grams per cup, which is very high — more than twice as high as most grains. Boiled quinoa contains much less fiber, gram for gram because it absorbs so much water. As well, Quinoa is high in magnesium, B vitamins, iron, potassium, calcium, phosphorus, vitamin E and various beneficial antioxidants. Given its high beneficial nutrient content, it makes sense that quinoa could improve metabolic health. To date, two studies, in humans and rats respectively, examined the effects of quinoa on metabolic health. The human-based study found that using quinoa instead of typical gluten-free breads and pastas significantly reduced blood sugar, insulin and triglyceride levels.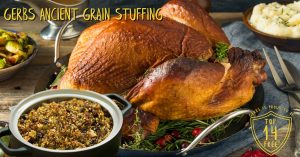 Prep time: 5 min
Cook time: 75 min
Total time: 80 min
INGREDIENTS – Makes 8 servings
5 Cups Vegetable Broth
1 Cup Gerbs Royal White Quinoa
½ Cup Gerbs Red Quinoa
½ Cup Gerbs Black Quinoa
3 Tablespoons Olive Oil
1 Large Sweet Onion, finely chopped
3 Stalks Celery, including green ends, chopped
2 Fresh Apples, cored, pealed & rough chopped
1/2 Cup Gerbs Dried Jumbo Raisins
1 1/2 Teaspoons Whole Leaf Savory, rubbed
1 Teaspoon Rubbed Sage
1/4 Teaspoon Gerbs Himalayan Sea Salt
1/4 Teaspoon Gerbs Ground Black Peppercorns
1 Tablespoon Gerbs Rosemary Garlic Seasoning Blend
Fresh Rosemary, Parsley, and Chives to garnish (optional)
¼ cup dry white wine (water optional)
DIRECTIONS
Preheat oven to 350°F. Grease inside of 9-inch by 13-inch baking dish; set aside.
Combine Gerbs red, white, & black Quinoa with vegetable stock in large saucepan. Bring to a boil, reduce heat to simmer, cover and cook 15 to 20 minutes, until grains are cooked through. Let stand for 5 minutes removed from heat, and fluff with fork.
While grains cook, heat olive oil in large skillet over medium heat. Add onion and sauté 3-4 minutes, and celery, and cook, stirring occasionally, for 3 minutes.  Add diced apples, Gerbs Raisins, savory, rubbed sage, Gerbs Rosemary Garlic blend, salt, black pepper and 1/4 white wine. Cook, stirring, until apples soften, about 10 minutes. Stir in cooked grains, tossing to evenly incorporate all ingredients.
Transfer stuffing to prepared baking dish. Cover with foil, transfer to oven and bake for 20 minutes. Remove foil, and bake additional 10 minutes, until lightly browned on top.