Gerbs Ultimate Cranberry Turkey Stuffing Recipe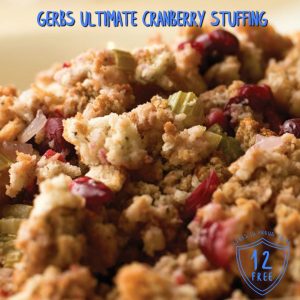 Ingredients
2 cups Vegetable Broth
2 tablespoons Extra Virgin Olive Oil
2 stalks celery, thinly chopped
Pouch Fresh Thyme, Parsley, Sage (bouquet garni)
1/2 cup Gerbs Dried Cranberries
1 small sweet onion, coarsely chopped
2 cloves garlic, finely chopped/grated
¼ cup grated Carrots, julienned
4 cups Gerbs Bread Crumbs
1 cup Gluten-Free bread, cubed ½"
3 large scallion stalks thinly sliced
Sea Salt & Fresh Black Pepper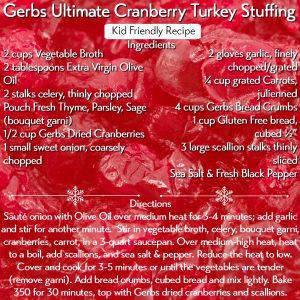 Directions
Sauté onion with Olive Oil over medium heat for 3-4 minutes; add garlic and stir for another minute.
Stir in vegetable broth, celery, bouquet garni, cranberries, carrot, in a 3-quart saucepan. Over medium-high heat, heat to a boil, add scallions, and sea salt & pepper. Reduce the heat to low. Cover and cook for 3-5 minutes or until the vegetables are tender, remove Garni.
Add bread crumbs, cubed bread and mix lightly. Bake 350 for 30 minutes, top with Gerbs dried cranberries and scallions.