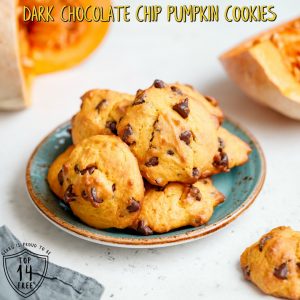 As soon as cooler September afternoons and nights hit, there's no better way to enjoy a crisp 'fall' day than in the kitchen with the kiddo's, than baking up a fresh & food allergy friendly batch of Gerbs dark chocolate pumpkin cookies. Adding our flavor packed (new) pumpkin seed butter, fresh pumpkin puree and pumpkin pie spice to this basic chocolate chip cookie dough makes for an amazing fall treat. These will be a hit at any school bake sale or dinner party.
INGREDIENTS
2 1/4 c. Gerbs all-purpose flour
1 tsp. baking soda
1 tsp. pumpkin pie spice
1 c. (2 sticks) unsalted butter, softened
3/4 c. brown sugar
1/2 c. granulated sugar
3/4 c. pumpkin purée
3/4 c. Gerbs Salted Pumpkin Butter
1 large egg
2 tsp. pure vanilla extract
2 c. Gerbs traditional semi-sweet chocolate chips
1/4 c. Gerbs raw pumpkin seed kernels (optional)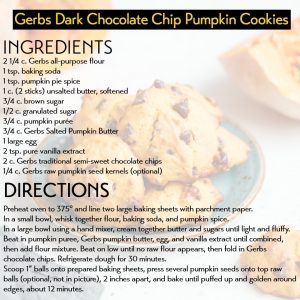 DIRECTIONS
Preheat oven to 375° and line two large baking sheets with parchment paper.
In a small bowl, whisk together flour, baking soda, and pumpkin spice.
In a large bowl using a hand mixer, cream together butter and sugars until light and fluffy. Beat in pumpkin puree, Gerbs pumpkin butter, egg, and vanilla extract until combined, then add flour mixture. Beat on low until no raw flour appears, then fold in Gerbs chocolate chips. Refrigerate dough for 30 minutes.
Scoop 1" balls onto prepared baking sheets, press several pumpkin seeds onto top raw balls (optional, not in picture), 2 inches apart, and bake until puffed up and golden around edges, about 12-14 minutes. Set aside 2-3 minutes, then cool on baking rack.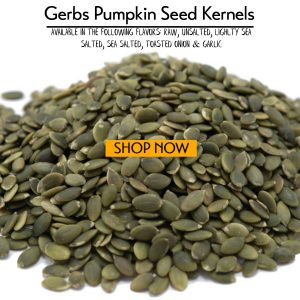 Coming Soon! We will be giving away a free Gerbs 'Safe Snacks' Wrist Band with each qualifying order (while supplies last) Watch our Website, Facebook & Instagram Page for rules & updates !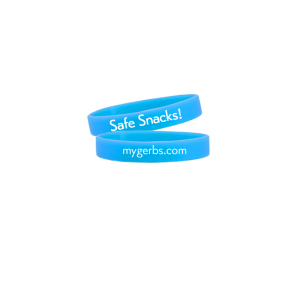 About the Teal Pumpkin Project
The Teal Pumpkin Project is a movement to raise awareness of food allergies and to create a safer, more inclusive Halloween for all trick-or-treaters. Putting a teal pumpkin on your doorstep will let trick-or-treaters know that your house is food allergy-friendly. This can mean that you offer non-food treats or trinkets, such as glow sticks or small toys, and/or that you have allergy-friendly candy which is free of the top 9 allergens (including sesame). This simple act allows kids to enjoy the same allergy-friendly trinkets or treats whether they have food allergies or not. Teal is the new orange, and we hope you will join us in painting Halloween teal. Getting started is easy:
Provide non-food treats and/or allergy-friendly candy (free of the top 9 allergens, including sesame) for trick-or-treaters
Place a teal pumpkin in front of your home to alert trick-or-treaters that you have a food-allergy friendly home
Add your home to the Teal Pumpkin Project map