Kid Friendly Cinnamon Bun Recipe
Santa and Rudolf are fast asleep in bed after another successful Christmas Eve mission and before kid's come galloping downstairs into the living room like Paul Revere being chased by the ghost of Christmas past! What do you say about setting this morning up for success? Mommy & Daddy Style!
Brew up a large pot of dark roast Italian coffee, chill the Champagne (Mimosas optional, lol) pour some freshly squeezed orange & grapefruit juice into large decanters. Grab your largest dark oat cutting board and begin assembling a world famous breakfast charcutier board, filled with bowls of delicious Gerbs dried fruits, protein packed Gerbs raw seeds, Gerbs original granola, Gerbs mini dark chocolate chips and a large bowl of piping hot Gerbs oatmeal.
But everyone's still waiting patiently for the rockstar of this breakfast, warm ooey gooey cinnamon buns, free from the top 14 food allergies.  Ohhhh, people will come Ray, people will most definitely come, they'll come to Iowa looking for Cinnamon Buns! The smell of these baking rolls will ensconce everyone's bedrooms and fill their lungs with a most welcoming holiday aroma, even the grumpiest of family guests will stop in their tracks and run (ok maybe not run) into the kitchen and patiently wait for the frosting to be slathered on while warm.
This recipe can easily be made using Gerbs ingredients and can be made with a dairy-free butter alternative. Substitutes can be made based upon your family's food allergy concerns and should not dramatically alter the flavor profile. If you want to add a crunchy topping and you have a tree nut allergy and cannot use pecans, we strongly recommend using Gerbs roasted sunflower seed kernels. These cinnamon buns can also be safely wrapped up in a Christmas tin and shared with friends and loved ones, with a kind note denoting their special allergy messaging.
A bread machine can be used to aid with the rising of the dough, but if you like, this recipe can be created with a standard mixer with a dough hook. You will need a nice warm spot for the dough to rise, as well as a bit of patience.
Dough Ingredients:
1 1/4 cups Oat Milk (sub. Sunflower or rice milk) heated to 110°F
1/3 cup melted dairy-free butter substitute
2 tablespoons sunflower oil
1/2 teaspoon vanilla extract
4 cups Gerbs All-Purpose Flour
1/2 cup sugar
1 teaspoon salt
4 teaspoons baking powder
1 1/4 teaspoons rapid rise yeast
Cinnamon Filling Ingredients
1/3 cup melted dairy-free butter substitute
2/3 cup light brown sugar
2 tablespoons ground cinnamon
1 tbsp. natural maple syrup
Dash of nutmeg (optional)
For the icing:
4 tablespoons dairy-free butter substitute
3/4 teaspoon vanilla extract
4 teaspoons blood orange juice
1 tablespoon light corn syrup
2 1/2 to 3 1/4 cups powdered sugar
Step by Step Recipe # 1: Prepare the Dough (Stand Mixer)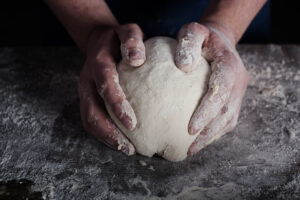 Start by proofing the yeast in the mixing bowl that comes with your stand mixer.
Warm up the water (or milk substitute) to 110°F, add the sugar, and stir to dissolve.
Then add the yeast, and do not stir. Allow it to sit for 10 minutes.
Now add in the remaining liquid ingredients (starting with the melted dairy-free butter alternative), and slowly add the remaining dry ingredients.
The stand mixer with dough hook will need to run for about 5 minutes to work the dough well.
Let the dough rest for 10 minutes.
Pre-warm and lightly grease a large bowl. Once the dough has rested, place it into the prepared bowl and cover the bowl tightly with plastic wrap. Place it somewhere warm to allow to rise for at least 2 hours. When finished resting and rising, the dough should be very soft, loose, and easy to work with. A warm kitchen is needed for the dough to rise properly! If your dough is still too elastic to work with and hasn't risen, try this:
Adjust an oven rack to the middle position and place a loaf or cake pan in the bottom of the oven. Place the container of dough on the middle rack and pour 3 cups of boiling water into the pan on the bottom rack. Close the oven door and allow the dough to rise as instructed.
Step 2: Make a Cinnamon Spread Pizza
Pre-heat your oven to 350°F. Combine the brown sugar, cinnamon, maple syrup and nutmeg in a medium bowl and stir well. Melt the dairy-free butter alternative in separate bowl, stand by with a pastry brush.
Roll the dough out into a rectangle shape with a floured rolling pin to be roughly 20″ x 12″. Spread the melted dairy-free butter over the surface of the dough with your brush, apply liberally this step is essential. Sprinkle the cinnamon sugar mixture heavily across the dough, press sugar firmly into the melted butter with your hands. Roll the dough up tightly, starting from the longer side. Using a sharp knife, cut the dough into rolls the size 2-3" thick.
Lightly grease a large baking sheet and place parchment paper on it. Place the rolls onto the pan, leaving a gap between each to allow room for expansion as they bake. Gently press down on the lower sections of the rolls to give each roll a somewhat angled shape (like a hill, so they won't be totally flat). Brush the tops lightly with some of the remaining melted dairy-free butter alternative.
Step 3: Bake
Bake at 350°F for 21 to 25 minutes. Poke the inner layers gently with a fork to test that they are done and not doughy inside, but also keep an eye that they aren't burning on the bottoms either. The parchment paper helps with that.
Step 4: Make the Icing
While the rolls are baking, combine all icing ingredients and mix with a hand mixer on medium-low at first. Once the sugar has been incorporated, increase the speed to high and whip the icing until it gets smooth and airy. Spread the icing on the rolls immediately after they come out of the oven. Devour and enjoy!