There is something magical about homemade gifts. As a giver, it feels great knowing that your gift is customized and made especially for your loved one. And receiving a homemade gift makes you feel extra loved. You know that a great deal of thought went into the gift and that it was made with your interests and preferences in mind. Fortunately, the wonderful thing about homemade gifts is that they don't need to be complicated to be special.
As a foodie, I've always gravitated toward edible homemade gifts. And as a busy mom, I really appreciate gifts that are simple, don't require a ton of time, and don't make a huge mess of my kitchen! I have a hunch that I'm not alone. So, I've created a round-up of my favorite edible (and allergy friendly!) holiday gifts.
Homemade Hot Chocolate Mix
Who doesn't love a steaming mug of hot chocolate in the winter? Homemade Hot Chocolate Mix is a fun, crowd-pleasing and delicious gift for kids and adults alike. I like to put this mix into recycled spice or jam jars or you could use small mason jars. Tie with a ribbon, add a little holiday tag with preparation instructions and pair it with a festive mug. Makes a GREAT gifts for teachers! And, the kiddos can help.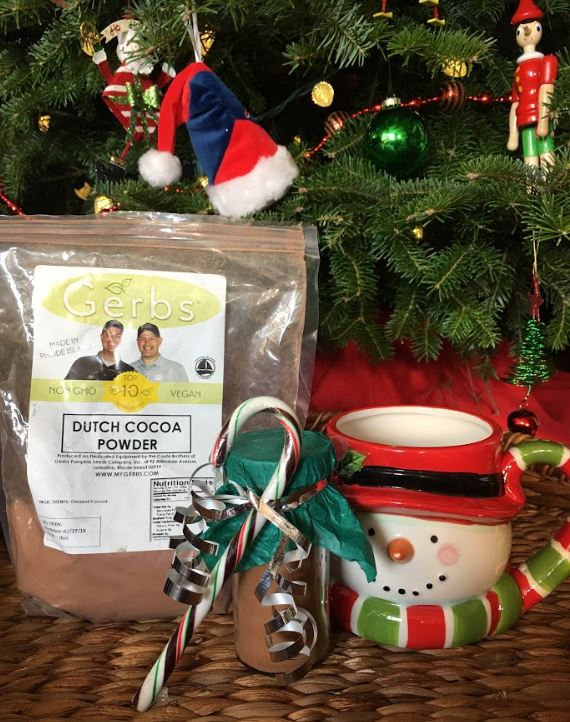 You can really get creative with this easy base recipe. Try adding some of Gerbs' Cinnamon and Cayenne Pepper for a Mexican-style Hot Chocolate!
Homemade, Allergy-Friendly, Hot Chocolate Mix
2 cups white sugar
1 cup Gerbs Dutch Cocoa Powder
Optional flavorings: beans from 1 vanilla bean, 1 tsp cinnamon, 1 tsp nutmeg and/or 1/2 tsp cayenne pepper
Sift together all ingredients. To make hot chocolate, combine 1 tablespoon of mix with 1 cup of hot dairy or non-dairy milk. Enjoy!
Herb-Infused Olive Oil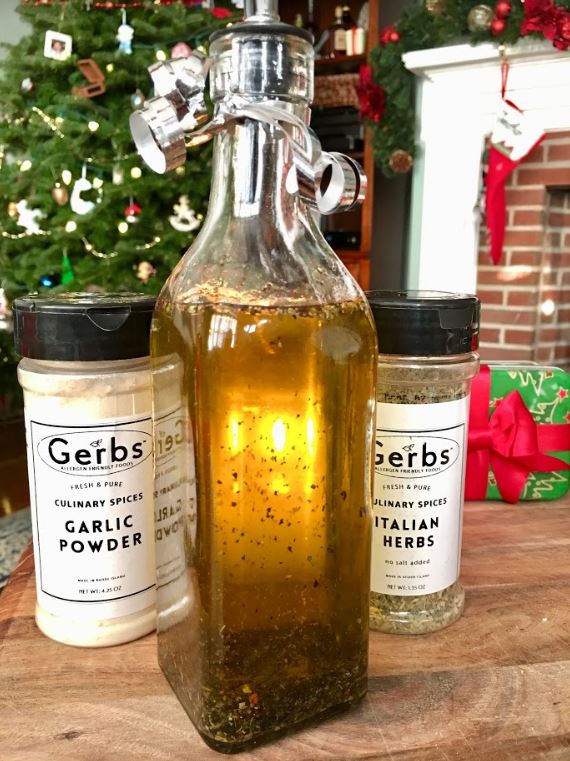 Olive oil is a staple in most kitchens. I love the idea of gifting a bottle of custom-infused olive oil. The flavor combinations are endless and there really isn't a recipe. It's more of a "ratio" than a recipe. Here's my favorite way to do it:
Extra Virgin Olive Oil (enough to fill your oil bottles 3/4 way full)
1/4 cup dried herbs or herb mixtures (I love Gerbs' Italian Herb Blend)
1 tablespoon Garlic Powder
1/2 tablespoon freshly ground black pepper
Combine all ingredients in clean, sterilized oil bottle. Place in a cool dark place for 3-4 days. That's it! I like to add a gift tag with suggested ways to use the oil, such as in pasta dishes, as a finished drizzle on pizza or to dip with fresh bread.
Chocolate-Dipped Pretzels
This idea is a no-brainer but the neat thing about chocolate-dipped pretzels is that they look fancy and gourmet. And, kids really LOVE to get involved in this one because it feels like an art project. Again, there are endless possibilities for topping combinations. I love the idea of using chopped dried goji berries or cranberries and pumpkin kernels (salted or unsalted) to make the rods red and green! Of course you can also use sunflower seeds, colored sugar or sprinkles. Anything goes! I like to wrap these in cellophane and a ribbon. They make a great hostess gift or bring them to the party for guests to enjoy!
Like the oil, there really isn't a recipe for this one. But, here's what you'll need: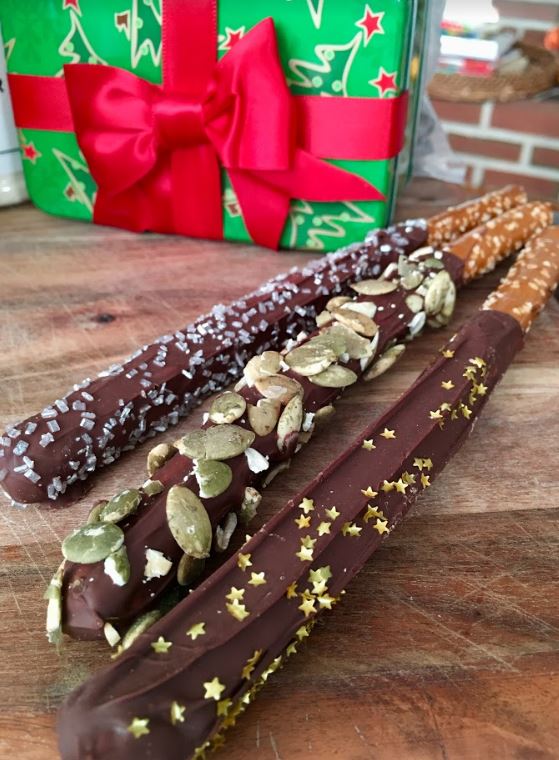 Gerbs Chocolate Chips 
Regular or Gluten-Free Pretzel Rods
Toppings of your choice (dried cranberries, seeds, sprinkles, colored sugar, etc.)
Melt the chocolate in a double-boiler or microwave safe bowl. Dip each rod into the melted chocolate, ensuring even coverage. Sprinkle toppings and set onto parchment or wax paper. Allow to cool fully before wrapping. Enjoy!
Wishing you and your family, a happy, healthy holiday season and a wonderful 2018!