Tree Nut Free Trevor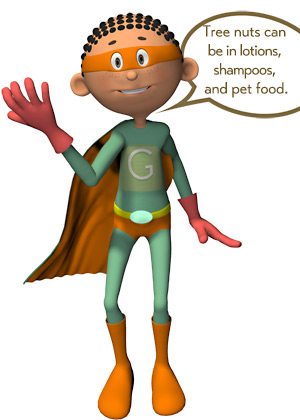 Common Foods With Nuts
Don't be surprised to find peanuts or tree nuts in foods like these:
-Baked goods. Cookies, candy, pastries, pie crusts, and others
-Candy. Chocolate candy especially; also nougat and marzipan
-Other sweets. Ice cream, frozen desserts, puddings, and hot chocolate
-Cereals and granola
-Chex mix
-Chili and soups. Peanuts or peanut butter are sometimes used as thickeners.
-Grain breads
-High-energy bars
-Honey
-International foods. Nuts are common in African and Asian cooking (especially Thai and Indian); also in Mexican and Mediterranean foods.
-Mortadella. This Italian ham may include pistachios.
-Meat-free burgers
-Sauces. May include hot sauce, pesto, gravy, mole sauce, glazes, or marinades
-Salads and salad dressing
Common Ingredients With Nuts
Avoid these when cooking and look for them on prepared food labels:
-Nut butters. Almond, cashew, peanut, and others
-Nut pastes. Includes products like marzipan, almond paste, and nougat
-Nut oils. Includes cold-pressed or expressed peanut oil, and others
-Hydrolyzed plant or vegetable protein. These can have peanuts in them.
-Peanut flour
-Nut extracts, like almond extract
4 Tips for Avoiding Nuts
Beware of cross-contact. Foods that don't contain peanuts or tree nuts can get contaminated if they are prepared in the same place or using the same equipment. Cross-contamination also occurs in ice cream parlors because of shared scoopers and other equipment, as well as in many ethnic restaurants where a wide variety of ingredients are used.
Check the label each time you buy a product. Manufacturers sometimes change recipes, and a trigger food may be added to the new one.
Look for peanuts outside the kitchen. In addition to foods, nuts can be in lotions, shampoos, and pet food. Check labels before you buy or use them.
Carry an epinephrine autoinjector. Carry two with you at all times and know how to inject it. For some people, an allergic reaction to nuts can quickly become life-threatening, so always be prepared. Brands includeEpiPen, Emerade, Twinject, Adrenaclick, Anapen, Jext, Allerject, and Auvi-Q.
Gerbs Roasted and/or seasoned lines are Made, Packaged, Processed, and Shipped in our facility in the historic PK Foundry building in Johnston, Rhode Island. We do not use any cooking oils, thus everything is dry roasted at low temperatures to lock in the natural vitamins, minerals, & omega fatty acids, because we feel baking in a pool of oil is just as unhealthy as frying! We maybe a small business located in the smallest state, but we THINK BIG – Gerbs is unique compared to any of our competition, in that we handle all aspects of operation – from purchasing, production, storage, and distribution/shipping on our 100% dedicated packaging equipment by our specially trained and caring staff.
Non-GMO
Chemical Free
Preservative Free
Nothing Artificial
Nitrates/Nitrite Free
Trans-Fat Free
MSG Free
Our entire product line is FREE from the Top 11 Recognized Allergen's. We inspect, roast, package, store, and ship all our lines to ensure Gerbs are: Gluten Free, Wheat Free, Peanut Free, Tree Nut Free, Legume Free (which includes beans, peas, lentils, chick peas, lupine), Soy Free, Egg Free, Sesame Free, Milk/Dairy Free, Fish Free, Crustacean Free, Shellfish Free, and Mustard Free.