MANAGING ALLERGIES - At School & Camp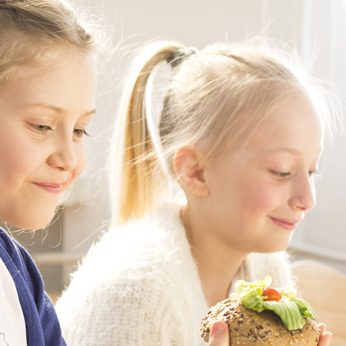 First of all Parents…you are doing a great job keeping your child safe and healthy! It's no small task to learn about your child's food allergies, make changes in your home environment, and continually ensure that your child is safe. While you probably know what it means to manage your child's food allergy at home, managing it at school can feel overwhelming. You are not alone.
Below are a few steps to help ensure a safe and inclusive environment for your child at school but for even more in-depth information refer to FARE's Managing Food Allergies in the School Setting: Guidance for Parents PDF
COMMUNICATE WITH THE SCHOOL
The school nurse, cafeteria staff, teachers, administrators, maintenance staff, and other parents are all key allies that will help keep your child safe.
Be sure to:
Establish calm and open dialogue – Teachers and staff may need time to learn about managing your child's food allergy. Being open, calm, clear, and available to teachers and staff is essential.
Provide medical information and medications – It is critical that you provide your child's school with information about your child's food allergy and medications. Many schools have their own Food Allergy Emergency Care Plan, but if not, DOWNLOAD THIS PDF.
THINK OUTSIDE THE CLASSROOM
Your child spends times in a variety of settings while at – or on their way to – school. Here are some locations to consider:
CLASSROOM – Talk to your child's teacher about how food is used in the classroom and ways to decrease exposure to food allergens. Discussion topics may include: food eaten in the classroom, celebrations, art/craft materials, surface washing, non-food incentives, and substitute teachers.
CAFETERIA –It is important to first learn what your child's school cafeteria currently does to manage food allergies and then determine if that is appropriate for your child. Federal guidelines require schools to offer safe substitute meals to students with life-threatening allergies. If your child needs additional accommodations in the cafeteria you may need to obtain written instructions from your child's licensed medical provider before making a plan with the school food service director.
TRANSPORTATION – School bus/van vehicles often have established food allergy policies. Learn about the current procedures and whether or not they meet your child's needs. Remember school transportation is also used for many field trips and/or extracurricular activities.
FIELD TRIPS & EXTRACURRICULAR ACTIVITIES
Your child's food allergy should not prevent them from being able to participate in much-anticipated events. Communication is key.
PREPARE. Ask to receive early notice of these events so you have time to prepare and address food allergy concerns, such as, who is responsible for your child's emergency plan and medications, what, if any, food is provided during the event, and how students will be transported to the event or site.
INFORM. Remind the teacher to share allergy information with chaperones and others who may not be familiar with your child's allergy. Be sure the field trip location is also aware of the allergy.
LEARN MORE.  The webinar: From Sleepovers to College: Coaching Your Food-Allergic Child to Independence provides steps parents can take to ensure their child is safe in all settings including school trips and overnights.
EMPOWER YOUR CHILD
Helping your child advocate for themselves is a crucial step in managing their food allergies at school. Be sure your child knows what is safe and not safe for them to eat, how to recognize symptoms of a reaction, and knows to immediately tell an adult if they are experiencing a reaction. Check out FARE's tips on Talking to your Child.