INGREDIENTS: Roasted Cocoa Beans (broken pieces)
COUNTRY OF ORIGIN: Peru.
---
Gerbs Cacao Coffee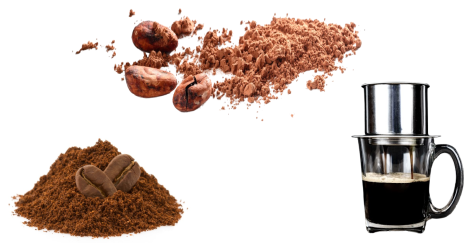 Gerbs cacao nibs add the chocolaty flavor without adding the sugar. Cacao gives you a theobromine boost to your caffeine, preventing a midday caffeine and sugar crash.
Just like coffee, not all cacao nibs are the same, our buyers use only premium crushed cacao nibs sourced from dedicated farms/fields of Peru to yield the best tasting cacao.
Grind cacao nibs in a standard mill just like you do whole coffee beans, and store in a separate air tight container. This powder is great in yogurt, cottage cheese, ice cream, granola, cereal, baked goodies, or add to homemade chipotle chili.
Directions for 50/50 Cacao Coffee
1 Scoop/part Freshly Ground Coffee
1/3 Scoop/part Freshly Ground Cacao Nibs
Add dash of nutmeg, ground ginger, turmeric, cinnamon, or cayenne pepper to make a different seasonal blend
---
BENEFITS OF CACAO NIBS
Cacao nibs are cocoa beans that have been roasted, separated from their husks and broken into smaller pieces.
The use of cacao for health dates back at least 3,000 years. Based on extensive research, the main health benefits of cacao stem from epicatechin, a flavanol found in cacao. The process of manufacturing dark chocolate retains epicatechin, whereas milk chocolate does not contain significant amounts of epicatechin.
Both epidemiological and clinical studies suggest a beneficial effect of dark chocolate on blood pressure, lipids and inflammation. Proposed mechanisms underlying these benefits include enhanced nitric oxide bioavailability and improved mitochondrial structure and function. To get these benefits, the cacao needs to be pure. One of the purest forms is in the beans themselves because they have the least processing, and includes cacao nibs.
Nutritional value of cacao nibs?
One serving of cocoa nibs (28 grams) has the following nutritional value (according to USDA):
Calories: 130
Protein: 4 grams
Fat: 12 grams
Carbohydrates: 10 grams
Fiber: 9 grams
Sugar: 0 grams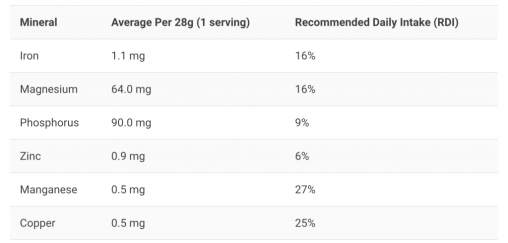 Cacao nibs are packed full of nutrients and minerals which are vital for maintaining a healthy body and mind.
Your body, for example, requires magnesium for at least 300 different enzyme systems that regulate biochemical reactions in the body.
Magnesium is one of the many minerals that is often lacking in our daily diets. However, just 28 grams of nibs added to your morning breakfast provides you with nearly a third of your daily recommended intake.
Copper and iron are needed to produce red blood cells, which supply the body with oxygen. Zinc is an essential mineral that the human body can neither make nor store. Zinc is crucial in the growth of cells, DNA synthesis, wound healing, immune function and many more.
All of these nutrients are hidden inside cocoa nibs, however, the many health benefits do not end there – let's take a closer look at this in the next section.
---

CACOA NIBS ALLERGY STATEMENT
We are a dedicated top 14 food allergen Free product line & facility; however if you or a loved one has an allergy(ies) to any Gerbs product, please email or call us (401-231-5181) first before ordering, so that we can answer any questions and talk about your options: sales@mygerbs.com
Our facility and entire product line is free from: gluten, wheat, peanuts, tree nuts, soy, beans, lentils, beans, dairy/milk, eggs, sesame, shellfish, crustacean, fish, and mustard. As well, Gerbs are Non-GMO, vegan, kosher, sulfur dioxide free, herbicide and pesticide free. Please understand most of our product are produced and packaged on shared but dedicated equipment, right here in our factory headquarters in Johnston, Rhode Island. If you have an allergy to one of our products or ingredients, do not order, please give us a call (401) 231 5181 or send us an email: sales@mygerbs.com
"WARNING: Consuming this Product can expose you to chemicals including cadmium, which is known to the State of California to cause cancer and birth defects or other reproductive harm. For more information, go to www.P65Warnings.ca.gov/food."
---
STORAGE OF GERBS CACAO NIBS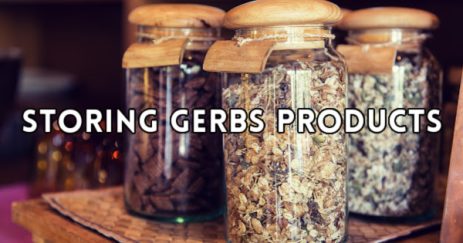 We strongly recommend storing in an airtight container in a cool, dark environment like a pantry or kitchen cabinet, away from direct exposure to sunlight or excessive heat like an oven. The amount of times you open the container and let in the harmful effects of oxygen will only increase the likelihood of rancidity; thus we encourage you to not empty more than 1 pound of product at a time. Gerbs can be frozen too, but we do not recommend it, because the cell structures will change as the product thaws out!