INGREDIENTS: Whole Grain Basmati Rice
COUNTRY OF ORIGIN: India
---
COOKING INSTRUCTIONS – ALWAYS RINSE ALL GRAINS & RICE FIRST!
Combine 2 cups of water and 1 cup of rice in a medium saucepan. Bring to a boil and stir. Cover and reduce heat to low. Simmer for 50 minutes. Remove from heat, let stand covered for 5 minutes.
---

BASMATI RICE ALLERGY STATEMENT
We are a dedicated top 14 food allergen Free product line & facility; however if you or a loved one has an allergy(ies) to any Gerbs product, please email or call us (401-231-5181) first before ordering, so that we can answer any questions and talk about your options: sales@mygerbs.com
Our facility and entire product line is free from: gluten, wheat, peanuts, tree nuts, soy, beans, lentils, beans, dairy/milk, eggs, sesame, shellfish, crustacean, fish, and mustard. All Gerbs lines are non-gmo, vegan, and free from pesticides and herbicides. Please understand most of our products are produced and packaged on shared but dedicated equipment, right here in our factory headquarters in Johnston, Rhode Island. If you have an allergy to one of our products or ingredients, do not order, please give us a call (401) 231 5181 or send us an email: sales@mygerbs.com
---
Nutritional Benefits of Gluten Free Basmati Rice
The word, "Basmati" means fragrant one in Sanskrit and it also means the "soft rice." Acclaimed for its nutty flavor and delicate texture, Basmati is used in making a range of culinary delights and rice dishes all over the world. India is the largest cultivator and exporter of this rice, and the majority of Basmati rice comes from the fields of Punjab.
LOW IN CALORIES
Compared with grain rice plain, basmati rice is low in calories But, Not only has a good aroma, basmati rice also has good nutritional value: Calorie. A serving about 3/4 cup basmati rice contains 150 calories.
HELPS GLYCEMIC INDEX
This rice is recommended for diabetic patients. According to the Canadian Diabetes Association, Basmati rice has a "medium" glycemic index, which is lower than other varieties of rice. Fiber, especially soluble fiber helps improve insulin sensitivity, which can improve control over the release of insulin as a result of the consumption of carbohydrates and protein. This can help improve a diabetic condition and also help avoid it.
FIBER KEEPS YOU REGULAR
The high fiber content in Basmati Rice will help reduce rectal muscle movement and also reduce pressure on the rectum so that hemorrhoids can be prevented.
---
STORAGE OF GERBS BASMATI RICE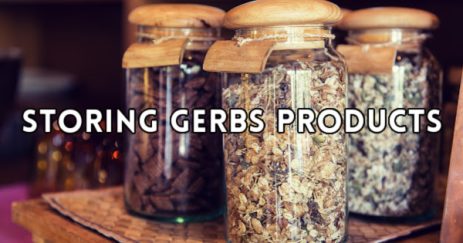 We strongly recommend storing in an airtight container in a cool, dark environment like a pantry or kitchen cabinet, away from direct exposure to sunlight or excessive heat like an oven. The amount of times you open the container and let in the harmful effects of oxygen will only increase the likelihood of rancidity; thus we encourage you to not empty more than 1 pound of product at a time. Gerbs can be frozen too, but we do not recommend it, because the cell structures will change as the product thaws out!