COMMON ALLERGENS → Sesame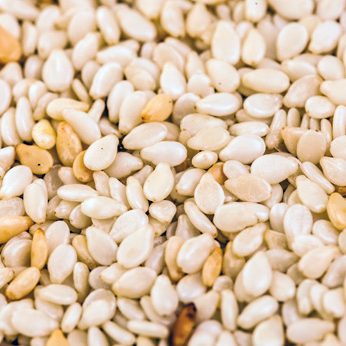 DID YOU KNOW?

Sesame is widely used in personal care products, like moisturizers and cosmetics. Be sure to check the labels before purchasing such products!
---
FAST FACTS
Sesame allergy is the most common seed allergy and appears to be increasing in prevalence. Similar to peanut allergies, sesame allergies develop at an early age and are typically not outgrown.
Sesame allergy is a major cause of anaphylaxis in the Middle East and is the 3rd most common food allergy in Israel.
Risk of accidental exposure is high for individuals for sesame allergies, which is of concern given that tolerance is uncommon once the allergy develops.
Reactions typically involve the skin (swelling, hives, itching) and respiratory system (anaphylaxis, wheezing, cough). Though less common, the GI tract can also be involved after ingestion (e.g. vomiting, nausea, diarrhea).
Those with sesame allergies might have an increased chance of having a peanut or hazelnut allergy.
Common (and Hidden!) Sources
Sesame seed, oil, paste, flour, salt (gomasio)
Also called: gingelly, benne or benne seed, halvah, tahini, sesamum indicum
Commonly found in: baked foods (on hamburger buns, bagels, and crackers), hummus, baba ghanoush, falafel, processed meats, candy, soups, vegetarian burgers, cosmetics, nutrition supplements, medications, pet foods.
Commonly utilized in Asian, Greek, and Middle Eastern cuisine.
REFERENCES
1. Adatia A, Clarke AE, Yanishevsky Y, Ben-Shoshan M. Sesame allergy: current perspectives. J Asthma Allergy. 2017;10:141-151. doi:10.2147/JAA.S113612.
2. Li PH, Gunawardana N, Thomas I, et al. Sesame allergy in adults: Investigation and outcomes of oral food challenges. Ann Allergy Asthma Immunol. 2017;119(3):285-287. doi:10.1016/j.anai.2017.06.013.
3. Cohen A, Goldberg M, Levy B, Leshno M, Katz Y. Sesame food allergy and sensitization in children: the natural history and long-term follow-up. Pediatr Allergy Immunol. 2007;18(3):217-223. doi:10.1111/j.1399-3038.2006.00506.x.