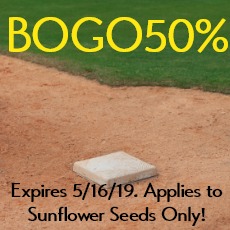 BUY ONE GET ONE 50% OFF SUNFLOWER SEEDS*
– Our Sunflower Seeds roasted in small batches on low temperatures, so their essential flavor profile remains, and their natural oils are not evaporated. Simply, these seeds are crafted to be enjoyed by every one.
Calling all Little Leaguers, order a few bags of our sunflower seeds, and you're a team star before the first game starts! The best thing is because they are food allergy safe, no more stories of boys or girls sitting at the end of the dugout for safety.
Enter Promo Code: BOGO50% during checkout - Offer Expires 5/16/19. Valid for registered & guest customers only.
Offer applies to any Gerbs Whole or Kernel Sunflower Seed product.
#sunflowerseeds #wholesunflowerseeds #madeinri #gerbs #allergyfriendly #allergysafe #allergyfreesnacks #bogo