Legume Free Lorraine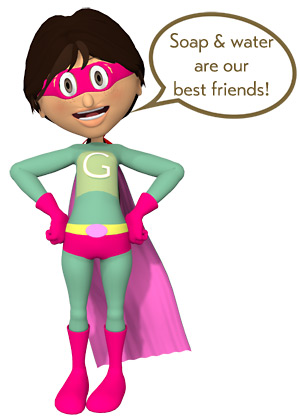 Soy, a legume, is found in many packaged food products. You may see it listed in the ingredients as "soy", "soy lecithin", "soyabean oil" or even "hydrolyzed plant protein" (which is often from soy). Soy is a cheap and easy binder, filler and preservative in packaged food products, so it's very common to find it in crackers, breads, cookies and other foods that have already been prepared.
However, since soy is one of the most common allergens in Canada and the United States, some companies are catching on and are starting to avoid using soy products. However, caution must still be used while shopping because it is unlikely you will find a "soy-free" logo like you might for "peanut-free" on some packaged foods.
Other legumes like beans, peas, chickpeas and lentils are little bit easier to manage. However, they do present their own challenges. Chickpeas are the main component of hummus and hummus can be used not only as a dip on its own but in sauces as well.
If you have a soy allergy, Asian restaurants are off-limits because it is a staple in their cuisine. However, don't let this discourage you from re-creating traditional Asian dishes minus the legumes. For example, you can create an equally good stir-fry with broccoli, chicken and rice instead of bean sprouts and peas.
Hand-Washing: When your child (or you) has a soybean or another plant from the legume family, soap and water are your best friends. Hands should be washed thoroughly before and after eating. If you have a school-aged child, ensure he (or she) is able to wash his hands before snacks and lunch. With younger children, schools usually adopt an allergy protocol of washing hands among all children after eating.
Gerbs Roasted and/or seasoned lines are Made, Packaged, Processed, and Shipped in our facility in the historic PK Foundry building in Johnston, Rhode Island. We do not use any cooking oils, thus everything is dry roasted at low temperatures to lock in the natural vitamins, minerals, & omega fatty acids, because we feel baking in a pool of oil is just as unhealthy as frying! We maybe a small business located in the smallest state, but we THINK BIG – Gerbs is unique compared to any of our competition, in that we handle all aspects of operation – from purchasing, production, storage, and distribution/shipping on our 100% dedicated packaging equipment by our specially trained and caring staff.
Non-GMO
Chemical Free
Preservative Free
Nothing Artificial
Nitrates/Nitrite Free
Trans-Fat Free
MSG Free
Our entire product line is FREE from the Top 11 Recognized Allergen's. We inspect, roast, package, store, and ship all our lines to ensure Gerbs are: Gluten Free, Wheat Free, Peanut Free, Tree Nut Free, Legume Free (which includes beans, peas, lentils, chick peas, lupine), Soy Free, Egg Free, Sesame Free, Milk/Dairy Free, Fish Free, Crustacean Free, Shellfish Free, and Mustard Free.