Mustard Free Mary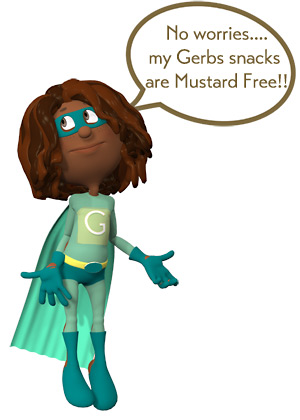 The processed foods which can contain the mustard seed ingredients are pickled gherkins, and small white onions. Various spicy sauces, vinaigrettes, mayonnaises often contain mustard condiment. Specific items that are especially problematic are hotdogs, lunch meat, pickles, barbeque sauce, and seasoning mixes (shake and bakes, etc).
Mustard is also used as an ingredient in many ready-cooked dishes, fritters, crackers, appetizers, various flours marketed for pizzas, fritters & dehydrated products for soups. Mustard is even present in baby food. It is a contaminant of hot-dogs (even without mustard), simply because of the salesmen's handling them. The risk of contamination cannot be excluded for fast food restaurants.
The major allergens in mustard seeds are heat resistant so cooking does not make it any safer. Those with multiple food allergies should be particularly careful before they start using any new ingredient including mustard seeds. France has the highest incidence of mustard seed allergy. The European Union and recently Canada has recognized sesame and mustard seeds as major allergens. In the US, statistics is not available for mustard seed allergies because it is relatively rare but not unheard of. Hence, there has been a push towards including sesame seeds and mustard seeds in the list of top food allergens.
Gerbs Roasted and/or seasoned lines are Made, Packaged, Processed, and Shipped in our facility in the historic PK Foundry building in Johnston, Rhode Island. We do not use any cooking oils, thus everything is dry roasted at low temperatures to lock in the natural vitamins, minerals, & omega fatty acids, because we feel baking in a pool of oil is just as unhealthy as frying! We maybe a small business located in the smallest state, but we THINK BIG – Gerbs is unique compared to any of our competition, in that we handle all aspects of operation – from purchasing, production, storage, and distribution/shipping on our 100% dedicated packaging equipment by our specially trained and caring staff.
Non-GMO
Chemical Free
Preservative Free
Nothing Artificial
Nitrates/Nitrite Free
Trans-Fat Free
MSG Free
Our entire product line is FREE from the Top 11 Recognized Allergen's. We inspect, roast, package, store, and ship all our lines to ensure Gerbs are: Gluten Free, Wheat Free, Peanut Free, Tree Nut Free, Legume Free (which includes beans, peas, lentils, chick peas, lupine), Soy Free, Egg Free, Sesame Free, Milk/Dairy Free, Fish Free, Crustacean Free, Shellfish Free, and Mustard Free.