Gluten Free Gary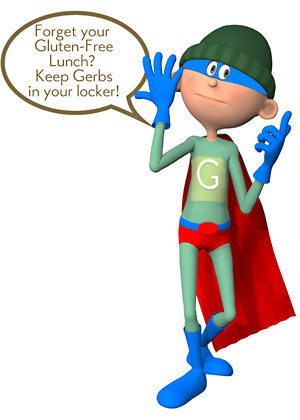 Why is Gluten bad?
Gluten isn't necessarily bad, but some people are gluten-intolerant, meaning their bodies produce an abnormal immune response when it breaks down gluten from wheat and related grains during digestion.
The most well-known form of gluten intolerance is Celiac Disease, which affects one in every 141 people in the United States, according to the National Institutes of Health. When someone with Celiac disease consumes gluten, it triggers an immune response that damages their intestines, preventing them from absorbing vital nutrients.
Wheat allergy is a rare type of gluten intolerance — it's a classic food allergy marked by skin, respiratory or gastrointestinal reactions to wheat allergens.
Recently, scientists have become aware of another potential form of intolerance called Non-Celiac Gluten Sensitivity. After consuming gluten, patients with gluten sensitivity may experience many Celiac disease symptoms, such as diarrhea, fatigue and joint pain, but don't appear to have damaged intestines.
In cases of gluten intolerance, doctors typically recommend a gluten-free diet. Patients must avoid eating any foods and ingredients that contains gluten, including bread, beer, french fries, pasta, salad dressing, soy sauce and even some soups (unless otherwise marked as "gluten-free").
Gerbs Roasted and/or seasoned lines are Made, Packaged, Processed, and Shipped in our facility in the historic PK Foundry building in Johnston, Rhode Island. We do not use any cooking oils, thus everything is dry roasted at low temperatures to lock in the natural vitamins, minerals, & omega fatty acids, because we feel baking in a pool of oil is just as unhealthy as frying! We maybe a small business located in the smallest state, but we THINK BIG – Gerbs is unique compared to any of our competition, in that we handle all aspects of operation – from purchasing, production, storage, and distribution/shipping on our 100% dedicated packaging equipment by our specially trained and caring staff.
Non-GMO
Chemical Free
Preservative Free
Nothing Artificial
Nitrates/Nitrite Free
Trans-Fat Free
MSG Free
Our entire product line is FREE from the Top 11 Recognized Allergen's. We inspect, roast, package, store, and ship all our lines to ensure Gerbs are: Gluten Free, Wheat Free, Peanut Free, Tree Nut Free, Legume Free (which includes beans, peas, lentils, chick peas, lupine), Soy Free, Egg Free, Sesame Free, Milk/Dairy Free, Fish Free, Crustacean Free, Shellfish Free, and Mustard Free.