DRIED GOJI BERRIES INGREDIENTS: Sulfur Dioxide Free Goji Berries
COUNTRY OF ORIGIN: Canada
---
Gerbs Dried Fruit Allergy Statement
Gerbs Dried Fruits do not contain any harmful cancer-causing preservatives. They are unsulphured/SO2 Free, Potassium Sorbate Free, Sodium Nitrate/Nitrate Free and Sodium Benzoate Free.
All of our raw ingredients are processed, packaged, handled, stored, and shipped by trained staff in our family owned & operated facility in Johnston, Rhode Island on dedicated non-GMO, Vegan, and Kosher Equipment. No co-packers. No co-manufacturers. For anyone with a mild to severe food allergy or a family with one, we wish to assure you that this is why Gerbs handles all aspects of production & operation, and we are among a handful of companies in the world who can state this.
This product was sourced by the Buyers at Gerbs who partner with the world's top dedicated Natural, non-GMO, and farms that harvest in dedicated facilities on dedicated equipment so there is no risk of the top food allergen's and/or cross -contamination. Our goal is to give the Allergy Community relief in the battle of living with food allergies.
NUTRITIONAL BENEFITS OF DRIED GOJI BERRIES
Dried goji berries, also known as the wolfberry, are brightly colored berries. These red-orange berries have been used for their medical benefits for many years in Asia and just recently they are being touted as one of the world's most powerful superfoods. There are many Goji berry health drinks available today, but the problem with some of these drinks is that many of them have been highly processed, which strips out some of the nutrition. If you want the maximum health benefits of Goji berries, it is best to eat them in their most natural, unprocessed form.
Cancer Prevention
One of the best benefits of brightly colored berries, like goji berries, is that they contain high levels of antioxidants which are extremely effective in fighting cancer. When you eat goji berries, the antioxidants seek out and remove cancer causing free radicals in the blood.
Heart Disease and Cholesterol
Another benefit that the antioxidants they provide is that they lower bad cholesterol levels and protect the heart from disease. Goji berries also contain fiber and higher fiber consumption has been linked with a lower risk of high cholesterol and heart attack.
Anti-Aging
Slowing the aging process can be achieved by eating certain types of foods and the antioxidants contained within goji berries have been linked with wrinkle reduction and slower aging. Also, longevity may be increased because of the disease and illness prevention that naturally occurs when antioxidants are consumed.
Eye Health
dried Goji berries contain vitamin A, zeaxanthin, and beta-carotene, all of which have been associated with healthier eyes. These compounds protect your eyesight, and they also prevent certain eye conditions such as macular degeneration.
Better Sleep
Regular consumption of goji berries can help to improve sleep. If you are suffering from insomnia, try eating goji berries on a daily basis and your sleep patterns will likely improve.
Stress Relief
Research has found that goji berries may relieve stress and promote a sense of calm, happiness, and well-being by reducing the amount of cortisol released in the body during periods of stress.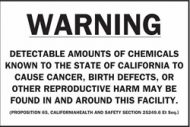 "WARNING: Consuming this Product can expose you to chemicals including lead, which is known to the State of California to cause cancer and birth defects or other reproductive harm. For more information, go to www.P65Warnings.ca.gov/food."