DRIED CAPE COD BLUEBERRIES INGREDIENTS: Blueberries (pure cane sugar, sunflower oil anti-sticking agent).
COUNTRY OF ORIGIN: USA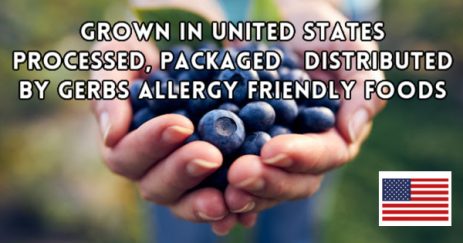 ---

Gerbs Dried Blueberries Statement
We are a dedicated top 14 food allergen Free product line & facility; however if you or a loved one has an allergy(ies) to any Gerbs product, please email or call us (401-231-5181) first before ordering, so that we can answer any questions and talk about your options: sales@mygerbs.com
Our facility and entire product line is free from: gluten, wheat, peanuts, tree nuts, soy, beans, lentils, beans, dairy/milk, eggs, sesame, shellfish, crustacean, fish, and mustard. Please understand most of our product are produced and packaged on shared but dedicated equipment, right here in our factory headquarters in Johnston, Rhode Island. If you have an allergy to one of our products or ingredients, do not order, please give us a call (401) 231 5181 or send us an email: sales@mygerbs.com
---
Gerbs Dried Fruits do not contain any harmful cancer-causing preservatives. They are unsulfured/SO2 Free, Potassium Sorbate Free, Sodium Nitrate/Nitrate Free and Sodium Benzoate Free. We strongly recommend however that you always read nutritional panels and ingredients. Some of our Dried Fruits have pure cane sugar, and although we are always looking at sourcing our fruits with no sugar added, it is far different than using than harmful chemicals.
All of our raw ingredients are processed, packaged, handled, stored, and shipped by trained staff in our family owned & operated facility in Johnston, Rhode Island on dedicated non-GMO, Vegan, and Kosher Equipment. No co-packers. No co-manufacturers. For anyone with a mild to severe food allergy or a family with one, we wish to assure you that this is why Gerbs handles all aspects of production & operation, and we are among a handful of companies in the world who can state this.
Dried cape cod blueberries are sourced by the Buyers at Gerbs who partner with the world's top dedicated Natural, non-GMO, and farms that harvest in dedicated facilities on dedicated equipment so there is no risk of the top food allergen's and/or cross-contamination. Our goal is to give the Allergy Community relief in the battle of living with food allergies.
Nutritional Benefits of Dried Cape Cod Blueberries
Dried cape cod blueberries pack a nutritional punch. They are low in sodium and in calories, offering 127 calories per one-quarter cup, and they contain no cholesterol. In addition, these fruits contain nutrients that are vital for your health. There are many ways for you to enjoy these sweet treats. You can make a smoothie by blending dried blueberries and a banana with a low-fat milk or add blueberries to hot oatmeal.
Keeps Your Bones Strong and Healthy
Dried blueberries are rich in vitamin K, providing about 23.8 micrograms of the vitamin per one-quarter cup. This amount equates to 20 to 26 percent of the recommended daily value for vitamin K. Vitamin K helps your blood clot properly and plays a crucial role in your bone health. Furthermore, vitamin K helps your body use calcium to build bones. Evidence suggests that vitamin K helps cut the risk of bone fractures, especially in postmenopausal women who are at risk for osteoporosis, according to the University of Maryland Medical Center.
Combats Free Radicals
One-quarter cup of dried blueberries contains about 9.5 milligrams of vitamin C, meeting 11 to 13 percent of your daily needs. A water-soluble vitamin, vitamin C aids in bone growth and tissue repair. Your body needs vitamin C for healing wounds, as well as for repairing and maintaining your teeth and bones. Vitamin C also helps build collagen, which is a protein used to form ligaments, skin, blood vessels, tendons and cartilage. Collagen limits the damaging effects of free radicals through its antioxidant activity. Free radicals are unstable compounds that damage your DNA and may contribute to heart disease and cancer.
May Help Prevent Type 2 Diabetes
Dried blueberries are a good source of fiber. One-quarter cup of dried blueberries provides you with 3 grams of fiber, fulfilling 10 to 12 percent of your daily fiber needs. Fiber helps keep your digestive system running smoothly and it also regulates bowel movements. Clinical studies suggest that consuming foods rich in fiber, such as dried blueberries, may help prevent type 2 diabetes, may lower blood sugar and insulin levels and may improve cholesterol levels in people with diabetes, according to the UMMC.
It Improves Your Cardiovascular Health
Dried blueberries are a rich source of anthocyanins, which are potent phytochemicals that give these fruits their blue color. Apart from this, anthocyanins help fight free radicals. Epidemiological and clinical studies have demonstrated an association between anthocyanins and improved cardiovascular health, according to a study published in the March 2010 issue of the journal "Nutrition Reviews." Also, human intervention studies using fresh or freeze-dried blueberries have shown notable improvements in metabolic risk factors such as glucose metabolism, lipid peroxidation, total plasma antioxidant capacity and low-density lipoprotein oxidation.
---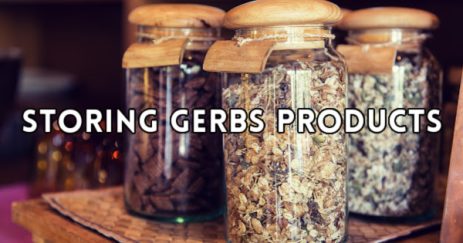 STORAGE OF GERBS BLUEBERRIES
We strongly recommend storing in an airtight container in a cool, dark environment like a pantry or kitchen cabinet, away from direct exposure to sunlight or excessive heat like an oven. The amount of times you open the container and let in the harmful effects of oxygen will only increase the likelihood of rancidity; thus we encourage you to not empty more than 1 pound of product at a time. Gerbs can be frozen too, but we do not recommend it, because the cell structures will change as the product thaws out!