INGREDIENTS: natural cocoa powder
COUNTRY OF ORIGIN: USA
---
GERBS NATURAL NO ADDITIVE COCOA POWDER
Since cocoa beans are naturally tart and acidic (characteristics that provide fruitiness and complexity in the best chocolates and harshness in chocolates of lesser quality), these characteristics are accentuated in cocoa powder. The best natural cocoa retains the true flavors and complexity of the cocoa bean, but lesser quality natural cocoa may be quite harsh. Our Natural Cocoa Powder is not harsh and has no additives.
What to Do if a Recipe Calls for Leavening but Does Not Specify the Type of Cocoa to Use
Older American recipes for chocolate cakes (like those handed down from your mother or grandmother or from older magazine issues) are typically leavened with baking soda but rarely specify a type of cocoa. Use natural cocoa powder in these old recipes. Why? Natural Cocoa (not Dutch Cocoa) was the only cocoa available in the baking aisle back in the day. And baking soda is the proper leavening for batters that contain natural cocoa powder: the soda reacts with the acidity of the cocoa powder to produce the right flavor and light texture.
Nutritional Benefits
Did you know that the cocoa in dark chocolate contains high concentrations of flavanoids that may provide health benefits such as decreasing the risk factors for cardiovascular disease? Compared to green tea, red wine, and many fruits and vegetables ounce for ounce, the cocoa in dark chocolate has greater flavonoid content.
Gerbs Allergy Statement
Although we are a dedicated 14 Free product line & facility, if you have an allergy(ies) to any Gerbs ingredients, please email us first before ordering, so that we can answer any questions and talk about your options: sales@mygerbs.com
All of our raw ingredients are processed, packaged, handled, stored, and shipped by trained staff in our family owned & operated facility in Johnston, Rhode Island on dedicated non-GMO, Vegan, and Kosher Equipment. No Co-packers. No Co-manufacturers. For anyone with a mild to severe food allergy or a family with one, we wish to assure you that this is why Gerbs handles all aspects of production & operation, and we are among a handful of companies in the world who can state this.
This product was sourced by the Buyers at Gerbs who partner with the world's top dedicated Natural, non-GMO, and farms that harvest in dedicated facilities on dedicated equipment so there is no risk of the top food allergen's and/or cross-contamination. Our goal is to give the Allergy Community relief in the battle of living with food allergies.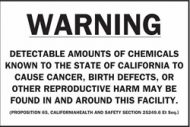 "WARNING: Consuming this Product can expose you to chemicals including cadmium, which is known to the State of California to cause cancer and birth defects or other reproductive harm. For more information, go to www.P65Warnings.ca.gov/food."