INGREDIENTS: Dried Whole Apricots (pitted).
COUNTRY OF ORIGIN: Turkey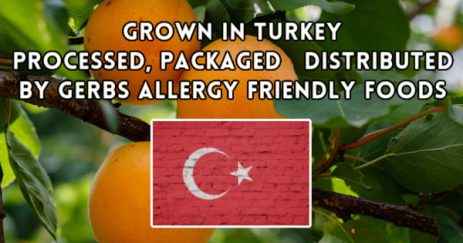 ---

Gerbs Dried Fruit Allergy Statement
We are a dedicated top 14 food allergen Free product line & facility; however if you or a loved one has an allergy(ies) to any Gerbs product, please email or call us (401-231-5181) first before ordering, so that we can answer any questions and talk about your options: sales@mygerbs.com
Our facility and entire product line is free from: gluten, wheat, peanuts, tree nuts, soy, beans, lentils, beans, dairy/milk, eggs, sesame, shellfish, crustacean, fish, and mustard. Please understand most of our product are produced and packaged on shared but dedicated equipment, right here in our factory headquarters in Johnston, Rhode Island. If you have an allergy to one of our products or ingredients, do not order, please give us a call (401) 231 5181 or send us an email: sales@mygerbs.com
---
Gerbs Dried Fruits do not contain any harmful cancer-causing preservatives. They are unsulfured/SO2 Free, Potassium Sorbate Free, Sodium Nitrate/Nitrate Free and Sodium Benzoate Free.
All of our raw ingredients are processed, packaged, handled, stored, and shipped by trained staff in our family owned & operated facility in Johnston, Rhode Island on dedicated non-GMO, Vegan, and Kosher Equipment. No co-packers. No co-manufacturers. For anyone with a mild to severe food allergy or a family with one, we wish to assure you that this is why Gerbs handles all aspects of production & operation, and we are among a handful of companies in the world who can state this.
This product was sourced by the Buyers at Gerbs who partner with the world's top dedicated Natural, non-GMO, and farms that harvest in dedicated facilities on dedicated equipment so there is no risk of the top food allergen's and/or cross-contamination. Our goal is to give the Allergy Community relief in the battle of living with food allergies.
Nutritional Benefits – DRIED APRICOTS
Dried apricots involve a drying process that evaporates the water content of the fruits without harming or reducing the nutritive value of the dried apricots. As a result, nutrients are not harmed and you yield even more benefits of dried apricots. These contain Calcium, Potassium, Phosphorus, Vitamin A, Iron, and Vitamin C. One cup serving of dried apricots contains 158 micrograms of Vitamin A.

Apricots Fight Anemia 
Dried apricots are a very good source of iron that is useful to fight Anemia. This also contains copper that absorbs iron. Including dried apricots in your daily diet helps in hemoglobin production that can be useful for women who experience heavy flow during periods.
Constipation
Dried apricots have pectin. They also contain cellulose that is a mild laxative and treats constipation. Cellulose acts as an insoluble fiber and pectin maintains water levels in the body during constipation.
Better Digestion
Dried apricots are consumed before a meal to stimulate digestion. This contains the alkali that neutralizes acids.
Apricots Reduce Fever
Dried apricots help to reduce fever. Prepare a liquid or you can dilute with some honey using water. This can also give you relief from thirst.
Apricots For Skin
Dried apricots juice can be used to treat itching due to sunburn, eczema and scabies. This also helps to clear acne and many other skin problems. Apricot scrub is often used to exfoliate the skin.
Clean digestive tract
Dried apricots help to treat the digestive tract by acting as a mild laxative to flush out the unwanted wastes. This is useful to react with the body's digestive juices and produces more of an alkaline environment to clean the digestive tract.
Regulate heartbeat
Dried apricots provide a very good source of potassium. Potassium is a mineral and electrolyte which is useful to regulate proper fluid balance. This helps in proper muscle function and regulates the heartbeat.
Apricots For Good vision
Dried apricots contain nutrients like Vitamin A which is required for good vision. Vitamin A is a powerful antioxidant that helps to remove free radicals and maintain the health of cells and tissues. Free radical damage can cause injury to the human eye lenses which can lead to cataracts or damage the eyes. Dried apricot intake reduces the risk of developing cataracts.
Hemoglobin
They can be used for production of hemoglobin that can treat Anemia. This is because dried apricots contain minerals like iron and copper which produces hemoglobin.
Relieve asthma
Dried apricots' health benefits also include the ability to cure the symptoms of tuberculosis, asthma and bronchitis.
High blood pressure Control 
Dried apricots contain three times more potassium than bananas and contain only a trace of salt that helps to keep down blood pressure. Potassium has water-retaining properties than sodium, which lowers blood volume pressure. Potassium in dried apricots also protects against heart disease.
Muscle building
They contain potassium which is necessary for bodily functions like improving metabolism and roles of the tissues, organs and other cells. Thus, it is important for muscle-building and normal body growth. It helps to regulate the levels of acid in the body and useful for protein synthesis.
Blood clotting
They contain Vitamin K that is required for blood clotting in case of injuries and to prevent excessive bleeding. Consume a cup of dried apricots daily to get 4 mcg of Vitamin K.
Enjoy our DRIED APRICOTS
Every day – Anytime Snack Food
Greek Yogurt
Oatmeal and/or Cereal
Soups/Stews
Biscotti
Breads/Rolls/Muffins
Salad Topper
Stuffing's
Cookies & Baked Goods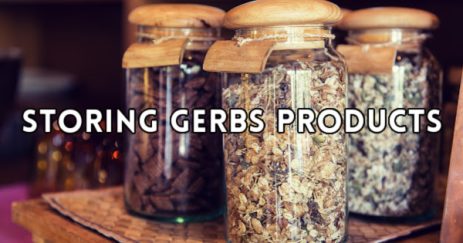 STORAGE OF GERBS
We strongly recommend storing in an airtight container in a cool, dark environment like a pantry or kitchen cabinet, away from direct exposure to sunlight or excessive heat like an oven. The amount of times you open the container and let in the harmful effects of oxygen will only increase the likelihood of rancidity; thus we encourage you to not empty more than 1 pound of product at a time. Gerbs can be frozen too, but we do not recommend it, because the cell structures will change as the product thaws out!