DRIED APPLE SLICES INGREDIENTS: Dried Sliced Apple Rings.
COUNTRY OF ORIGIN: New England, USA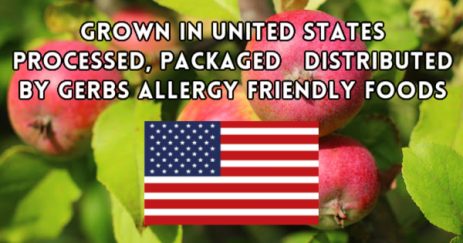 ---

Gerbs Dried Fruit Allergy Statement
We are a dedicated top 14 food allergen Free product line & facility; however if you or a loved one has an allergy(ies) to any Gerbs product, please email or call us (401-231-5181) first before ordering, so that we can answer any questions and talk about your options: sales@mygerbs.com
Our facility and entire product line is free from: gluten, wheat, peanuts, tree nuts, soy, beans, lentils, beans, dairy/milk, eggs, sesame, shellfish, crustacean, fish, and mustard. Please understand most of our product are produced and packaged on shared but dedicated equipment, right here in our factory headquarters in Johnston, Rhode Island. If you have an allergy to one of our products or ingredients, do not order, please give us a call (401) 231 5181 or send us an email: sales@mygerbs.com
---
Gerbs Dried Fruits do not contain any harmful cancer-causing preservatives. They are unsulfured/SO2 Free, Potassium Sorbate Free, Sodium Nitrate/Nitrate Free and Sodium Benzoate Free.
All of our dried apple slices raw ingredients are processed, packaged, handled, stored, and shipped by trained staff in our family owned & operated facility in Johnston, Rhode Island on dedicated Non-GMO, Vegan, and Kosher Equipment. No co-packers. No co-manufacturers. For anyone with a mild to severe food allergy or a family with one, we wish to assure you that this is why Gerbs handles all aspects of production & operation, and we are among a handful of companies in the world who can state this.
Dried apple slices was sourced by the Buyers at Gerbs who partner with the world's top dedicated Natural, non-GMO, and farms that harvest in dedicated facilities on dedicated equipment so there is no risk of the top food allergen's and/or cross-contamination. Our goal is to give the Allergy Community relief in the battle of living with food allergies.
Nutritional Benefits – Gerbs Dried Apple Slices
Eating dehydrated fruit is one convenient way to reach your recommended fruit intake, which is 2 cups daily for men and 1.5 cups for women, recommended by the U.S. Department of Agriculture. Since dehydrated fruit loses volume during the dehydration process, you should consider a half cup of dehydrated apples the equivalent of a 1-cup serving of fruit.

Fiber
One of the main benefits of dehydrated apples is their dietary fiber content. A half-cup serving of the dried fruit contains 3.7 grams of dietary fiber. If you follow a 2,000-calorie diet, the snack provides 13 percent of your daily fiber intake, according to the Colorado State University Extension, or 18 percent of your daily fiber requirements if you follow a 1,500-calorie diet. Fiber helps keep you regular — it bulks up and softens your stools to prevent constipation. It also slows digestion, preventing blood sugar spikes that leave you tired and hungry shortly after your meal. Since fiber helps keep you satisfied after a meal, dehydrated apples make for a filling snack.
Vitamins
Dehydrated apples also provide a source of vitamins that benefit your health. The apples contain very small amounts of other vitamins C and A, two nutrients that keep your skin and bones strong and healthy. They contain several B vitamins, which collectively support your metabolism and nourish your liver and skin. A half-cup serving contains approximately 6 percent of your daily recommended intake of vitamin B-6 and 3 percent of your daily intake of vitamin B-5, according to the Linus Pauling Institute. Both vitamins help you make neurotransmitters, chemicals required for brain function.
Minerals
Dehydrated apples also benefit your health due to their mineral content. Each half-cup serving contains 4 percent of your daily recommended intake of potassium, a mineral essential to nerve and brain function, according to the Linus Pauling Institute. Dehydrated apples also contain a small amount of iron — 8 percent of the recommended daily intake for men or 3 percent for women, according to the Institute. You use this iron to make new red blood cells, so your tissues can get a fresh supply of oxygen from your bloodstream. Eating dehydrated apples provides small amounts of other minerals, including copper, manganese and selenium.
Cooking Tips
Dehydrated apples prove useful in the kitchen, lending flavor to a range of dishes. Try warming chopped dehydrated apples on a stovetop along with dried cranberries, apple cider and cinnamon to make a sweet condiment that pairs well with lean pork loin or chicken breasts. Add a handful of dehydrated apples to your oatmeal in the morning, then top with sliced almonds and cinnamon for a healthy alternative to pre-packaged apple-cinnamon oatmeal. Finally, try pairing dehydrated apple with mixed nuts and seeds for a homemade trail mix to keep you full when you're on the go.
Enjoy our unsulfured Dried Apple Rings with:
•Every day – Anytime Snack Food
•Greek Yogurt
•Oatmeal and/or Cereal
•Soups/Stews
•Biscotti
•Breads/Rolls/Muffins
•Salad Topper
•Stuffing's
•Cookies & Baked Goods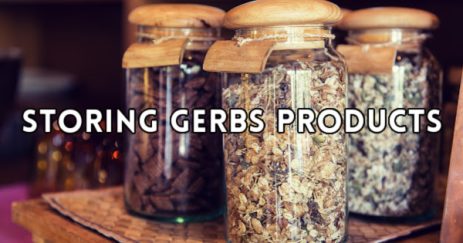 STORAGE OF GERBS
We strongly recommend storing in an airtight container in a cool, dark environment like a pantry or kitchen cabinet, away from direct exposure to sunlight or excessive heat like an oven. The amount of times you open the container and let in the harmful effects of oxygen will only increase the likelihood of rancidity; thus we encourage you to not empty more than 1 pound of product at a time. Gerbs can be frozen too, but we do not recommend it, because the cell structures will change as the product thaws out!